Although every WordPress website is different, with its own individual needs and requirements, in most cases there is a list of core plugins that can greatly enhance it. In this article we will take a look at some of those genuinely useful plugins that can make your WordPress website that little bit better.
You probably won't need all of these plugins running on your website. But if you are looking to add some useful features to your site, then the below options are some of the plugins I've been using over the years – or have recently converted to – and have found useful for a lot of projects.
Make Your Website Faster with WP Rocket

I know that there are already two very popular free caching plugins available for WordPress in the form of WP Super Cache and W3 Total Cache. However, the premium WP Rocket gets the nod when it comes to making your website go faster.
With the two aforementioned free plugins, you do get access to a wealth of settings and options in order to configure how caching will work on your website. However, if you want a quick and easy solution for adding caching to your WordPress website in order to make it load faster, WP Rocket comes highly recommended.
It's often reported that if you don't configure your caching plugin correctly, it can slow your site down. WP Rocket negates this issue by having limited settings and options, helping to make this a foolproof caching plugin for the busy WordPress user.
After recently switching to WP Rocket, I've become a convert and it's now my go to WordPress caching plugin.
Keep Your Site Backed Up with VaultPress

I used to use and recommend one of the free WordPress backup plugins, but after experience some frustration when trying to roll back to a previous version of my website, I've started moving over to the VaultPress backup service.
I'm still using the free BackWPup backup plugin on some websites and in some situations. I'm also experimenting with the premium BackupBuddy plugin from iThemes, but so far VaultPress has been pretty impressive.
If your website is worth backing up, and you can spare $5 per month for daily backups, or $15 for real time backups, then I'd definitely recommend checking out VaultPress.
Secure Your WordPress Site with iThemes Security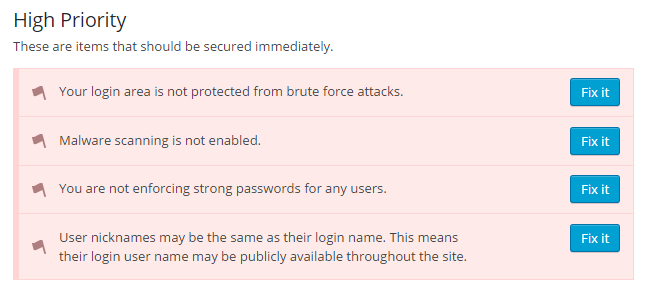 After activating this popular WordPress security plugin on your website, you are presented with a list of things you should think about fixing in order to shore up the defences of your website.
As well this checklist being sorted by order of priory, each action point includes a button that takes you to the page where you can perform the necessary actions to resolve the potential issue.
If you like to know what your security plugin is doing to actively protect your site, check out iThemes Security.
Monitor Your Visitors with Jetpack Stats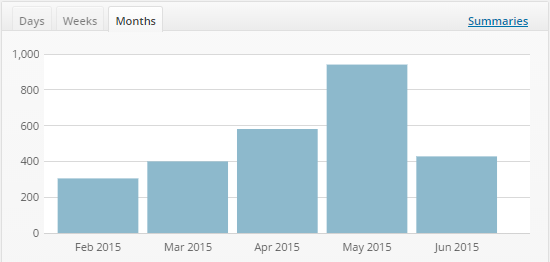 Google Analytics and a suitable plugin might be the best choice for power users who want to know every little detail about the visitors to their website, but for almost everyone else, the Jetpack Stats module is probably a better choice.
What it lacks in detail, this free option makes up for in simplicity. From your WordPress dashboard, you can view basic information about your traffic, such as how many views your website has received, where those visitors came from, and what your top posts and pages are. You can also load the enhanced stats to get some slightly more detailed information.
You can use this tool in conjunction with something more featured, such as Google Analytics to get the best of both worlds. Jetpack Stats gives you access to some basic reporting on your WordPress dashboard; while Google Analytics gives you the option of accessing more in-depth user tracking and monitoring on those occasions when its needed.
Grow Your Email Newsletter with Optin Forms

As soon as your website goes live, you should start taking action to build a list of email subscribers. Once a visitor joins your email list or becomes a newsletter subscriber, you can alert them each time you publish new content on your blog or launch a new product.
If you want to increase your chances of turning one time visitors into regular readers, then signing up for an email marketing service like MailChimp and adding attractive optin forms to your website is a great place to start.
While there are plenty of fully featured premium email sign-up form plugins for WordPress, the free Optin Forms plugin offers a great way to automatically add an attractive newsletter subscription form to the end of your posts and pages. If you also want to add pop-up optin forms to your website, then the free Pop-Up CC is a good option.
Let Your Visitors Get in Touch with Ninja Forms

I must admit I recently switched to the excellent Gravity Forms plugin. However, for some website owners, that might be an investment they aren't quite ready to make just yet. In those situations, the free version of the Ninja Forms plugin is a good alternative for adding contact forms to your website.
The plugin gives you a drag and drop interface for creating your forms. You also get access to a good set of form fields, including checkboxes, lists, calculations, payment fields, and more. As your needs grow, you can add on additional features by purchasing one or more of the premium extensions.
If you don't need all the advanced form features just yet, Ninja Forms give you a solid foundation for creating your contact and other forms.
Upgrade Your Site Search with SearchWP

Let's be honest, the core WordPress site search functionality isn't the best. However, by upgrading to the premium SearchWP plugin you can make it easier for your visitors to find more of the content they are looking for on your website.
If you aren't ready to invest in this premium plugin, the free version of Relevanssi also does a good job of improving your WordPress site search capabilities.
Whichever option you choose, it's a win-win for everyone. Your visitors can now find what they are looking for; while you get an increased opportunity to forge a connection with them as they stick around for longer.
Manage Downloadable Files with Download Monitor

If you are adding downloadable files to your WordPress website, then you should definitely consider upgrading its capabilities for handling those files.
While you can just insert files into your posts and pages, which your visitors can then download, by installing the free Download Monitor plugin, you now get a dedicated area on the dashboard of your website where you can manage these downloadable files.
By using Download Monitor you get lots more options for organizing your downloads and publishing links to those files. You can also track the downloads, as well as restrict access to them if needs be. If you want to start selling downloads from your website, then the free EDD plugin is a great option.
Gracefully Manage External Links with Pretty Link

Pretty Link gives you a central dashboard to manage the external links that you publish on your website. With this plugin, the appearance of each of your links can be customized and shortened to make it look prettier than it otherwise would. You also get access to some statistics on how many times your links are clicked, as well as the ability to group and categorize your links.
If you like this plugin and want more features, you can go pro and upgrade to the premium version. Doing so gives you the ability to automatically replace certain keywords with links, split test your links, and a number of social media-related features.
For those that are recommending products or services as an affiliate, or anyone who just wants a way to create and track more user friendly URLs, Pretty Link works really well. And remember, if you are linking to items as an affiliate, you can use this free plugin to disclose this fact.
Monitor External Links with Broken Link Checker

As your website grows, so too will the number of external links you publish. To avoid frustrating your visitors and missing out on any affiliate commissions you could've otherwise earned, the Broken Link Checker plugin can be a real time saver.
After installation, this free plugin will do a quick check of all the links on your website to ensure they are still pointing to an active web page, image, video, or other type of content. From then on, it will run periodically in the background, and send out notifications each time a broken link is found.
From the Broken Links dashboard, you can edit any of the problem links directly, removing the need to visit the individual posts or pages. You can also unlink them to quickly resolve the issue.
This is one of those useful plugins that runs in the background, without your visitors ever being aware of its existence.
Customize Your Text with Easy Google Fonts

If you can't, or don't want to start editing the underlying files of your theme, but you would still like to customize the fonts your website uses, then installing the Easy google Fonts plugin is highly recommended.
Not only does this plugin give you access to the 600+ free typefaces available in the Google Fonts repository, but you can also preview them live on your website, through the WordPress Customizer. Through the theme customizer tool, you can change the fonts used for the different elements of your theme, such as paragraphs, headings, and more. This plugin also gives you the ability to add custom selectors to the customizer, in order to change the fonts for any of text elements on your website.
If you want a live preview tool and access to over 600 fonts, then Easy Google Fonts is the plugin for you.
Increas Social Shares with Floating Social Bar

If you've already activated the Jetpack plugin, then you could use the Sharing module to add social share buttons to your posts and pages. For everyone else, the Floating Social Bar plugin is a good choice.
This free plugin has been built to be as lightweight as possible and have the least amount of impact on the page load times of your website. Only the main social networks are covered, and you can either display the sharing buttons on a floating bar, or as a static set of icons at the start or end of each post. You can also insert them into your content by using the included shortcode.
If you want an easy way to display links to your social media profiles in the sidebar of your website, then the Social Stickers plugin and its widget is a good option.
Get More From Twitter Shares with JM Twitter Cards

It's great when someone tweets out one your posts to their followers. But if you really want to make the most of your Twitter shares, you really ought to enable Twitter Cards for your website.
Twitter Cards are those tweets which include custom content. This additional content can range from large images, mini galleries, product information, and even video content. One plugin that makes it relatively straightforward to start using these rich tweets on your WordPress website is JM Twitter Cards.
As well as giving you a quick way to enable Twitter Cards for your website, the plugin also adds a panel to the post editor. Through this panel, you can add a custom image for your card, or just use the featured image.
I've yet to find the perfect all-in-one social sharing plugin, but for now, JM Twitter Cards takes care of maximizing the impact of your tweeted content. If you are looking for a premium option that covers all of the main social networks, then WP Social Sharing Optimization is worth checking out.
Other Honorable Mentions
Below are some links to other plugins you should probably be using on your WordPress website. They've all been written about countless times before, so just take a look at their official descriptions, number of active installs, and user ratings, to get a good sense of how they can help you:
Conclusion
Obviously you shouldn't go out and install all of these plugins on your website. However, if you are looking for an extension that will add the features covered in this article, then the recommended plugin is in most cases, the best option of its type.
What plugins not covered here could you not live without? Are there any alternatives to the above plugins you prefer? Please share your thoughts in the comments below.