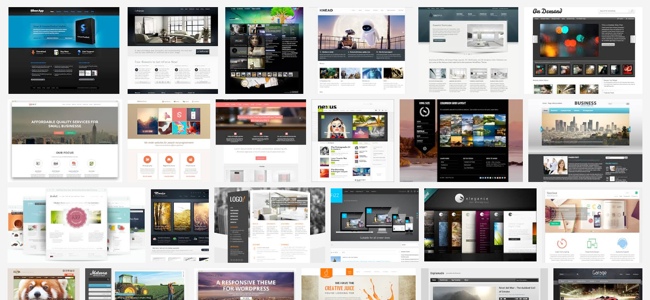 After committing to a new WordPress project, choosing the right theme is one of the first tasks you'll have to complete.
On paper, that sounds like fun, but the truth can be anything but. After all, there are literally thousands of themes out there — where on Earth do you start?
From personal experience, choosing a theme is hard work. It usually starts with me spending hours lining up theme demos in dozens of different tabs until my browser crashes.
If there's one thing I've learnt, however, it's this: choosing a theme is a hugely time-consuming task, so you have to be ruthlessly decisive when eliminating the no-goes. Narrow your list down to just a handful and you make your life far easier.
But how do you do this? Well, today I'm here to help, as I share 10 things to consider when choosing a premium WordPress theme — it's the complete methodology I use myself.
Why premium themes I hear you ask? That's a discussion for another day, but it usually boils down to a higher quality, upgraded features, and more customization options. Premium WordPress themes tend to go for between $20 and $200, and if you're serious about your project, it's well worth the investment.
With that out of the way, let's take a look at what to look for when buying a premium WordPress theme.
1. Stylish Design
First and foremost, pick a theme that you like the look of – that's just plain common sense, right?
This starts with an extensive browse through the theme's demo. Most themes these days are super-versatile, so dig around and you might uncover a layout that really resonates with you. You can use the demo to test out all the customization features, too. Play around with the color schemes to get an idea of how the theme will look when it's kitted out in your branding.
Keep your website's specific needs at the forefront of your mind when searching. If a theme looks stylish but doesn't match what you're looking for, move onto the next. For example, even the most beautiful minimalist blogging theme is inappropriate for a corporate website, so don't even entertain the idea. Theme marketplaces like ThemeForest segregate themes into categories, so start your search in one that's relevant. Themes in a relevant category will have the most relevant designs, features, and functionalities.
And remember, there are thousands upon thousands of themes out there, so this should go without saying: pick a theme that you find aesthetically pleasing and suits your brand. No compromise!
2. Superfast
We've talked in the past about how important website speed is – shaving fractions of a second off load times can significantly boost your conversion rate.
Now, there are a lot of factors that impact your website's speed, but your theme selection is undoubtedly one of them. Here are a few things to consider:
Those feature-rich themes might look appealing at first glance, but all those features need loading, and that takes time.
If a theme is image-heavy – for example, if it uses lots of full-width images and full-screen backgrounds – then that can add significant bulk to your website, slowing it down.
A poorly coded theme can make your website sluggish, so avoid low quality themes.
Admittedly, until you've actually bought the theme, there's a lot of guesswork involved. Still, I recommend running a preliminary test on potential themes before purchasing. Access the theme's demo, then paste the link into the Pingdom Website Speed Test tool.

The free tool will tell you important information like load time, page size, number of requests, and also how the site performed relative to other websites.
3. Responsive Design
With the number of people accessing the internet using mobile devices now outstripping desktops, responsive web design is no longer optional – it's downright essential.
People will no longer tolerate awkwardly resized websites when they access the internet from their phone. If your website isn't fully responsive, you can kiss goodbye to a significant chunk of your visitors.
Before buying a theme, make sure that it's fully responsive. View the themes demo from your phone or tablet, too, just to make sure everything displays as it should.
4. Easy Setup
Most WordPress users pick a theme simply because they fell in love with the demo.
The problem with this?
After installation a theme might look nothing like its demo, and inexperienced WordPress users often lack the skills to configure it correctly. This makes the theme purchase a complete waste of money.
It's not all doom and gloom, though: many theme developers are starting to recognize this problem. And, to make their theme more user friendly, they're adding a valuable one-click installation feature. This will turn your website into an exact replica of the demo you loved in just seconds.
Don't underestimate how important easy setup features are. In most cases, it's far easier to work backwards when you have a fully functional site structure in place than it is to start building from scratch.
5. Third-party Plugin Compatibility
Not every WordPress theme works with every WordPress plugin. Although compatibility issues are relatively rare, it can be incredibly frustrating to buy a theme only to find that it doesn't work with the plugin you were expecting to use.
Not all plugins can be listed for compatibility, of course, but if you read through a theme's description, the developer will often list major plugins the theme is compatible with. The main plugins to check for are WooCommerce and BuddyPress (which require dedicated page templates for product and forum pages).
If I was dead set on using WooCommerce, for example, I would make sure that any theme I was considering was fully WooCommerce compatible.
6. Support and Documentation
A high level of after-sale support and extensive documentation are important if you want to get the most from your chosen theme.
Even experienced WordPress users get stuck — your new theme might work differently from what you're used to. When problems strike, the first place to turn is the theme's documentation. If the documentation is comprehensive — ideally including follow-along videos — you can expect to get up and running far more quickly.
If you really can't figure something out, you'll have to turn to the developers for help. This is where an active and competent after-sales support team show their value. If you think you're likely to lean on the developer for support, this is something you can't afford to ignore. Look through the theme's support forums to see how the developer handles queries — you're looking for timely and in-depth responses.
If in doubt, I recommend emailing the developer before purchasing a theme. This will give you an idea of how good their support team really are.
7. Theme Ratings
A theme might look great on paper and the demo might blow you away, but will it live up to expectations? After all, the theme could be inundated with problems hidden by the sales page and demo.
In my opinion, user ratings and reviews are a solid starting point when researching a theme. Although different theme sellers and marketplaces will have different review systems in place, most will allow real-world users to leave a rating and short review. I tend to take lots of four- and five-star ratings with a pinch of salt, but if the theme has received plenty of one- and two-star ratings, it's safe to assume that this is a theme with problems.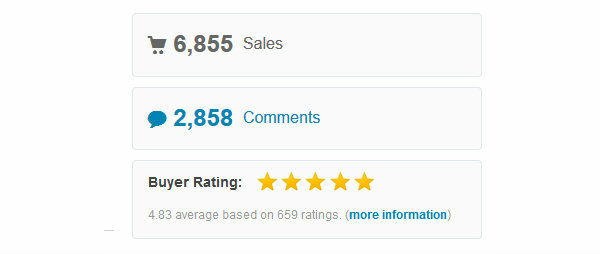 If the theme is big enough, you may even be able to find an in-depth theme review written by an experienced WordPress user on one of the top WordPress blogs – for example, we regularly review themes here at PremiumWP. These reviews will give you a comprehensive and objective insight into a theme's pros and cons, from which you can evaluate the theme's potential.
8. Large Sales Volume
Before committing to a theme, I always take a look at the number of sales the theme has made — if you're using the ThemeForest marketplace, this data is readily available on the theme's sales page.
Why is this important? Because if the theme is a top-seller, I can reasonably make a number of logical assumptions. Off the top of my head, these assumptions include:
Lots of sales means lots of user feedback to iron out any problems.
Lots of sales means the seller has the resources to provide adequate support.
Lots of sales gives the seller the incentive to continue updating the theme.
Of course, you'll need to use your common sense with this one: a recently released theme is bound to have far less sales than a more established one.
9. Recently Updated
Before buying a theme, it's important to check when the theme was last updated — you should be able to find this information on the sales page.
If a theme hasn't been updated for a while, it increases the probability that it won't be compatible with the latest version of WordPress. This can result in limited features, broken functionality, and security vulnerabilities.
Even more concerning, if the theme hasn't been updated in a long time — I'm talking over 18 months, which is an eternity in the fast-moving WordPress world — then I would question whether the theme is actively developed at all. If not, then the compatibility issues will only exacerbate over time.
10. Price Considerations
With the competition so accessible, price will always be a major consideration when shopping online — and this includes shopping for WordPress themes. After all, with so many free themes available, a premium theme really has to justify the price tag.
My tip: Before buying your theme, make sure you understand exactly what's included in the price.
For starters, some themes are purchased separately. Most of these standalone themes are priced in the $20-$60 ballpark, although they can go as high as $200. Does that price include after-sales support, or will you have to pay extra for it? Does the fee give you a license for a lifetime, or will you be required to renew it annually?
You also have to factor in any "bonuses" — for example, many top-sellers on ThemeForest include premium plugins such as Visual Composer ($33 value) and LayerSlider ($17 value) in the price. That's $50 of added value right there.
Making the situation more confusing, there are also WordPress "clubs" — these give you access to a developer's entire theme and plugin collection. Let's say, for example, that you wanted to use Elegant Theme's multi-purpose Divi Theme. The $69 price tag might seem steep at first, but this provides great value when you factor in the other 80+ themes you're getting for your money. And, for just $20 extra you can also gain access to their top-rated plugin collection. In other words, the headline price is relatively high, but you're getting a lot of bang for your buck.
Take a close look at what's included in the price before committing to a theme. This will allow you to evaluate the theme's true value.
Final Thoughts
If you're looking for the perfect WordPress theme for your next project, there are a lot of factors to consider. Different WordPress users will prioritize them differently, but the ten points listed in today's post are a good starting point when evaluating any premium theme. If the theme you're considering fits the bill in all ten areas, well, you probably have a great theme on your hand!
What do you look for when choosing a premium WordPress theme? Share your thoughts in the comments below!
Readers Rating

Rated 4.4 stars




4.4

/ 5 (

Reviewers

)

Outstanding
---