New premium / commercial WordPress theme shops seem to be starting up all around the place on a regular basis these days. The ever increasing popularity of WordPress and demand for quality themes is one factor fuelling the trend. So while the premium themes market may be getting saturated, and new theme shops might find it increasingly difficult to complete with the established well know premium WordPress theme companies, WordPress users are defiantly the winners with more choice and options from the growing number of premium WordPress themes available.
Below are 7 new premium WordPress theme companies which have launched recently that are worth taking a look at.
1. Theme Furnace
Theme Furnace is a brand new premium WordPress theme shop that launched on May 1, 2012 after 8 months of work. ThemeFurnace aims to "provide the highest quality WordPress themes, both in terms of appearance and functionality coupled with unrivalled customer support". At launched that have 4 high quality WordPress themes for business & personal sites, and plan to add at least one new theme each month. Themes are priced at $49 each, or $99 /year for the Developer Club membership which gives access to all themes. Visit ThemeFurnace.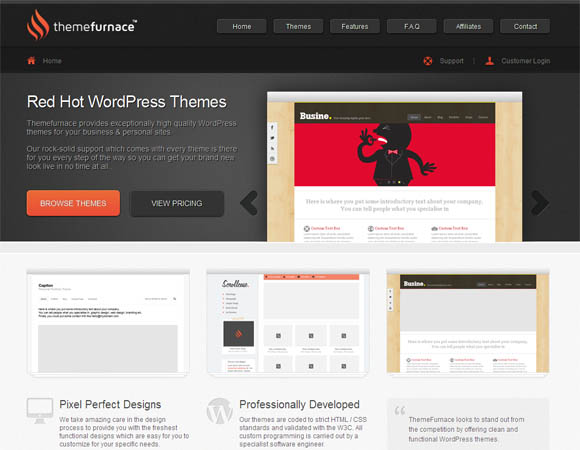 2. WP Business Bundle
Business Bundle is a bundle of business tailored premium WordPress themes and plugins. They currently have 2 plugins and 13 attractive business and business portfolio themes, including 2 free themes. WP Business Bundle has a number of membership options: $14/month, $97/year or $297 for lifetime access. Every subscription provide access to all the current themes, 1-2 new themes each month, new plugins, video tutorials and dedicated support.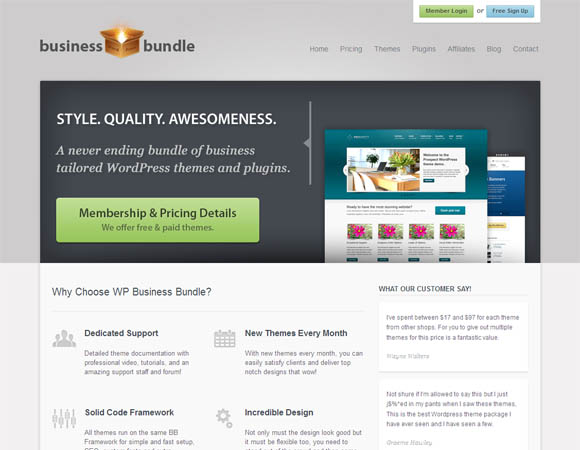 3. Themes Desk
Themes Desk is a commercial WordPress themes shop offering a variety of theme styles for bloggers, businesses and artists. Their themes are designed "without any unnecessary effects, drop shadows, gradients, [and] use a simple and clean code." All the themes are powered by the Themes Desk Framework that boasts a load of useful features. Themes Desk currently has 12 commercial themes available. Styles include: magazine, tech, news, photo, celebrity, fashion, baby, blog and creative. Prices are $79 each or $299 for the all themes package. Visit Themes Desk.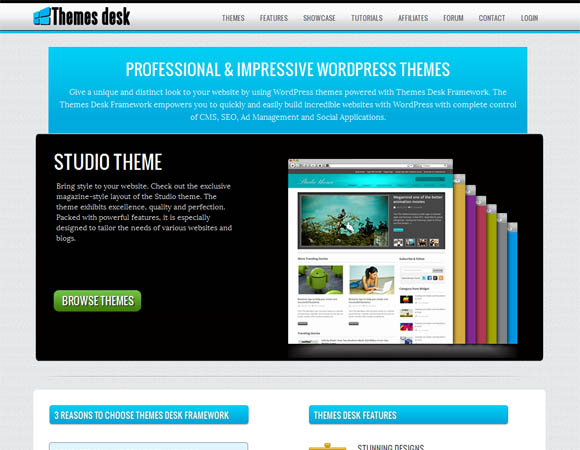 4. Themnific
Themnific have a collection of professional and feature packed responsive WordPress themes for building your own personal blog, online magazine, creative portfolio or business website. The themes are build on the Themnific Framework which provides a long list of features, and lets you customize the layout, style and typography of every element in the themes design. Themnific currently have 7 themes (2 free) as well as the extremely flexible Themnific Pro Framework Theme. The Framework price is $50, while the others themes are priced at $35 each.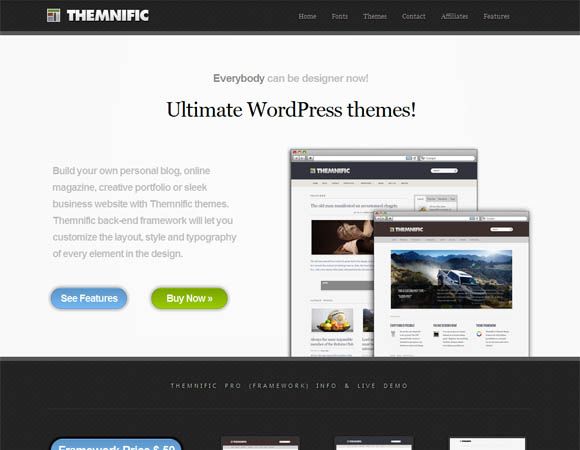 5. Flare Themes
Flare Themes is a new WordPress theme shop that launched in March 2012. They currently offer 3 themes: a minimalist portfolio theme, a vibrant personal blog theme and a customisable blog magazine style theme. All their themes are built on Flare Themes own framework that provides a considerable amount of control and customisation options. All themes are priced at $34.95, and come with lifetime updates and support straight from the developers.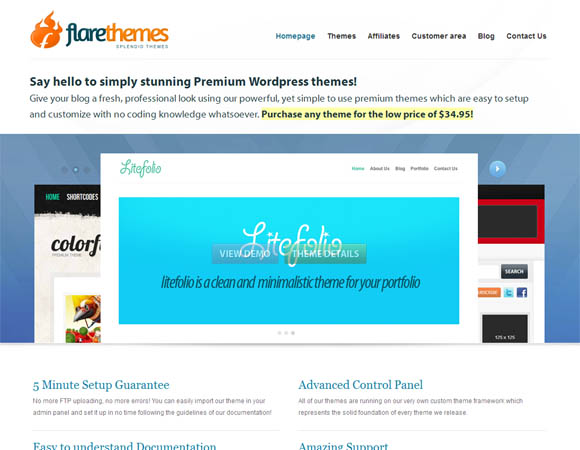 6. WPLook
WPLook is a new WordPress theme shop we just discovered that currently has 4 commercial themes for sale. They offer two magazine style themes and two personal blog themes of which two have responsive designs. Themes are $69 each and include access to support and updates.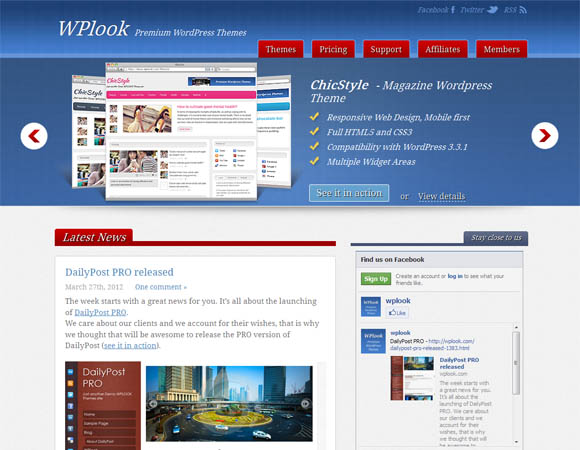 With so many WordPress theme shops, and new premium WordPress themes being released all the time it can be difficult for one to keep track of them all. But don't worry, keeping track and profiling all of the best premium themes is what we do at PremiumWP. So check back regularly or consider subscribing via RSS or follow us on Twitter to stay updated with the important happenings in the premium WordPress world.