WordPress is the most popular publishing platform on the web. However with its popularity comes a price. Malicious hackers and spammers often target WordPress websites seeking to exploit insecure websites to their advantage.
It is vitally important you keep your WordPress site up to date with the latest version of WordPress and also secure and protect your WordPress site with the right tools, plugins and services.
The following quality products and services will help keep your WordPress site secure.
Sucuri Security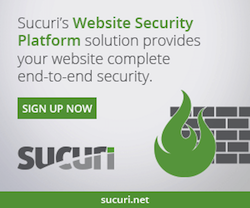 The Sucuri Security WordPress plugin is a free plugin that provides all WordPress users a set of security features for your website. It includes security activity auditing, file integrity monitoring, malware scanning, blacklist monitoring, security hardening, post-hack security actions, security nonfictions and website firewall (premium).
Sucuri also offer paid plans that include unlimited malware and hack clean-up, continuous scanning, website firewall (WAF) and malware and attack prevention. You can find out more at sucuri.net