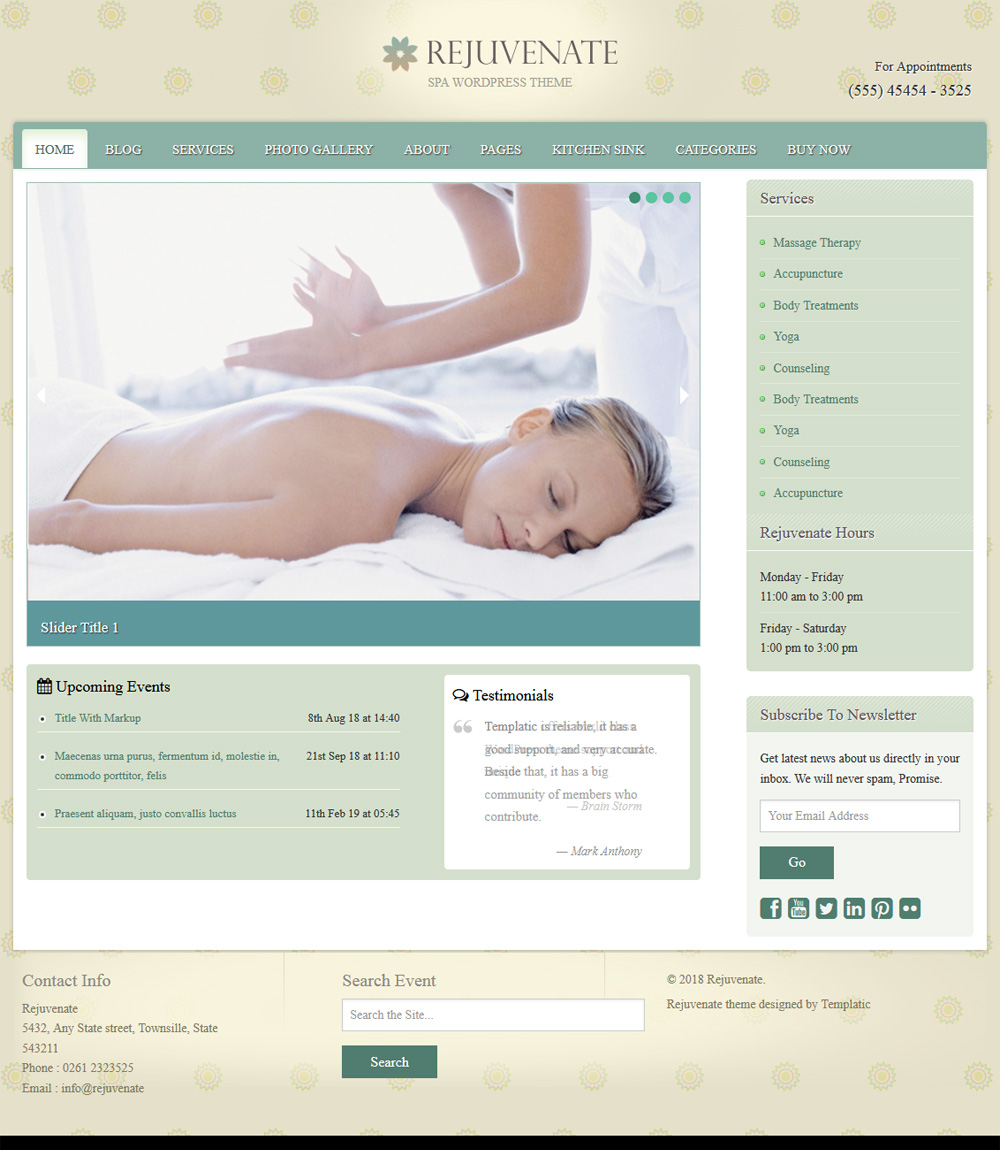 Rejuvenate is a WordPress theme best stable for those who wants to showcase their spa salons or massage parlors. The design, affected by the big slider is relaxed, simple and inviting. The theme is powered by the popular Foundation framework, ensuring lightning fast performance and awesome responsiveness. Let's have a look at it's incredible features.
Theme Customization
Homepage
Customizing the homepage is easy as drag n' drop. Widgets allow you to populate the homepage with different content while still preserving that clean and beautiful look.
Header
Header in Rejuvenate Salon WordPress theme can be changed from the back-end. Upload and assign your own logo in seconds and also change the text that appears on the right side.
Widget
Helping you structure and display content is various widgets. These include: Testimonials, Reservation and Special Offers, Services and Working Hours, Upcoming Events and more.
Theme Color
Control the color of your links, the font and even the background color – all from the theme back-end settings area.
Auto-resizing thumbnails
Our theme dynamically generate thumbnails from the image you uploaded so you won't have to create separate thumbnail images.
Translate Rejuvenate
Rejuvenate comes with a language file (.po) you can use to translate the theme. In case you haven't done this before we've prepared a tutorial that will help you get started.
Maintain a regular Beauty blog
Starting a blog with this advanced theme is as easy as creating a new category and adding some posts to it, no further tweaking necessary.
Easily customizable
Unlimited color options
Automatic updates
Custom widgets
Translate Rejuvenate
Auto-resizing thumbnails