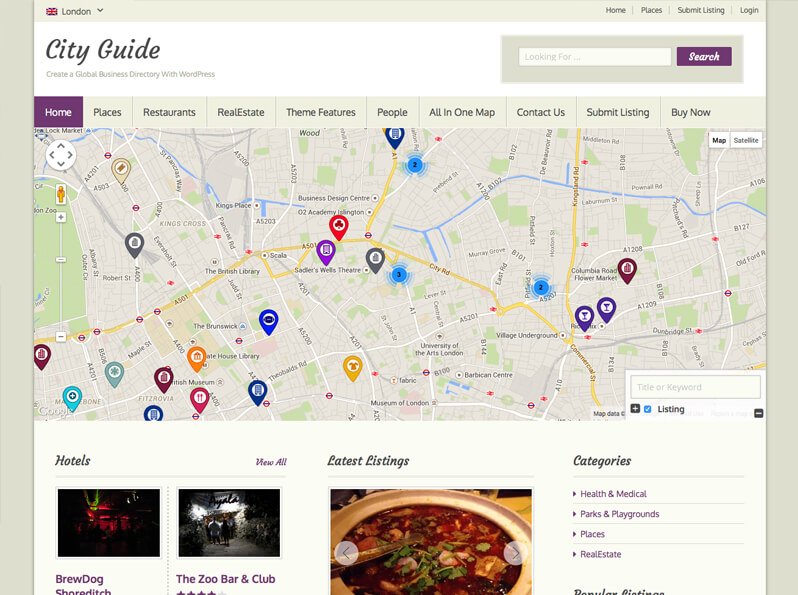 City Guide is a directory based theme to create a city directory website with WordPress. Your city directory website can be used to show different listings under different categories.
This City Guide WordPress theme is designed with multiple features that can help you make money with your online directory website. So, you can use this city guide WordPress theme to create an information reach directory for your city, that earns for you.
Truly multipurpose city guide
The city directory WordPress theme lets you create different post types, with different custom fields. This means that on your city directory website you can have diverse listings of any kind.
Therefore, you can create a unique city directory and use this theme for almost any purpose. It has all the flexible options and controls that you can use to create a website of your choice very easily.
Brilliant location based features and maps
Your city directory come with different location based features to let you create a location aware directory website. The city guide theme comes with the geo-location features to let you build a directory that provides accurate results. Besides, you can use a plugin called location manager that you can use for advanced location features.
The city guide support different maps for different pages. For example: The homepage map that is designed to show all the listings with map markers on the homepage. This can be used in the banner area.
The category page map, that shows all the listings of the selected categories. And the detail page maps designed to show the location of the listing. It comes with navigation features too.
Create unlimited categories and post types
For the listings on your directory website, you can create unlimited categories and subcategories. So you visitors can find the points of their interest easily.
For example: Your city directory website can have multiple categories like Hospitals, real estate, events, diners and restaurants, Hotels, etc. Each of these categories can have multiple sub-categories too.
Now you might need different types of listings for different categories. Therefore, the theme even supports creating custom post types as well as custom fields for your website.
Responsive with mobile app view support
SEO friendly City guide theme
Supports some powerful extensions
Multiple payment gateway support
Bulk import and export options
Listing ratings and reviews
Abundant money making options
RTL and multi-language ready