These days, it doesn't really matter what industry your business is a part of – you need a website. That idea may seem silly at first – especially if you work in a niche market like a rehabilitation clinic – but everyone should be producing content regularly through a blog or website. The most obvious reason is to improve SEO and put your website and brand higher in search listings. This will help not only interested consumers find your company, website or blog, but it may even assist addicts who are actively looking for a place to recover or receive support. Long story short, a blog helps generate an online presence and will reel in more traffic and potential customers.
That said, there are several different ways you can publish content including through text, images, video and more. You can also integrate social media networks with your blog, by cross-posting content between multiple platforms. The problem is, the stock WordPress install doesn't offer much support in the way of functionality and features. In order to improve your blog and do some more engaging stuff with it, you'll need to install third-party plugins and themes.
There are so many different options out there when it comes to installing a theme on your site or blog that it can be daunting – especially when it comes to choosing one for a rehab clinic. The rehab business is such a niche market that it can be extremely difficult to track down a suitable theme. That's why we've done all the work for you, and compiled a list of the best themes for rehab centers out there.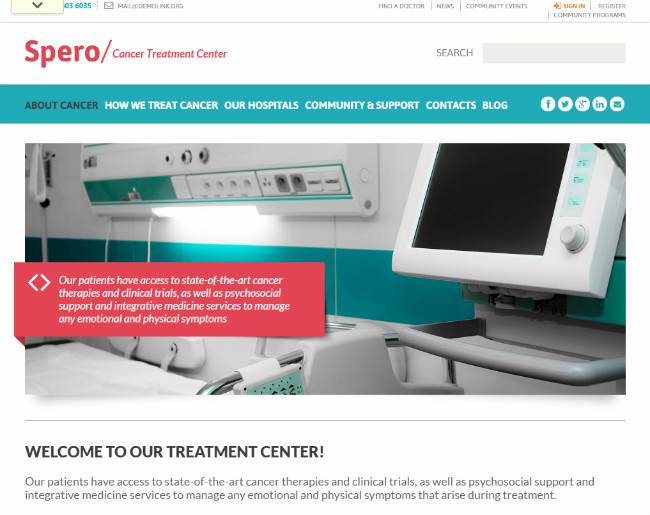 Considering what this theme is meant to be used for, the name is more than fitting. Rehabilitation is a clean, minimal and responsive theme that offers a whole slew of features already built-in.
Many of the theme's elements are fully editable and customizable, allowing you to alter the way the front-end of the site looks to better match your brand. For instance, you can choose one of several different fonts, move your sidebar or remove it entirely, and even include a front page slideshow and galleries.
It offers support for custom post types and formats, multilingual content and quick-use function shortcodes as well.
If you're interested in using the Spero theme, a single-site license will set you back $75. You can also pay a little more and have the entire theme installed and customized for you.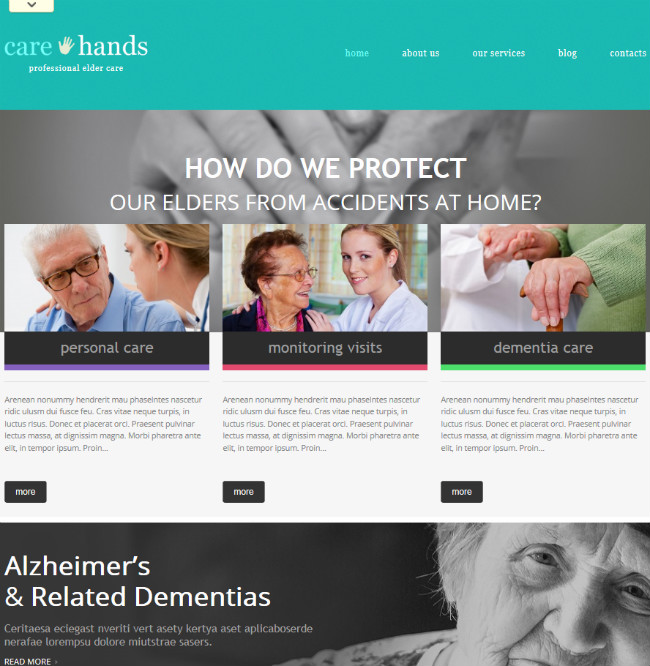 The Care Hands rehabilitation theme is actually offered through the same site as the one above, Template Monster. However, most themes listed on this site are created by completely different artists and designers.
The Care Hands theme is more business-oriented in that it offers a front-page layout dedicated to marketing your brand or clinic. It includes most of the same features as the theme above, such as a fully responsive design, customizable theme elements, the use of custom post types and shortcodes – and it's multilingual ready.
The main difference between the two is that this theme is meant to be used as a portfolio first and foremost. The price remains the same for the Care Hands theme, at $75 for a single-site license.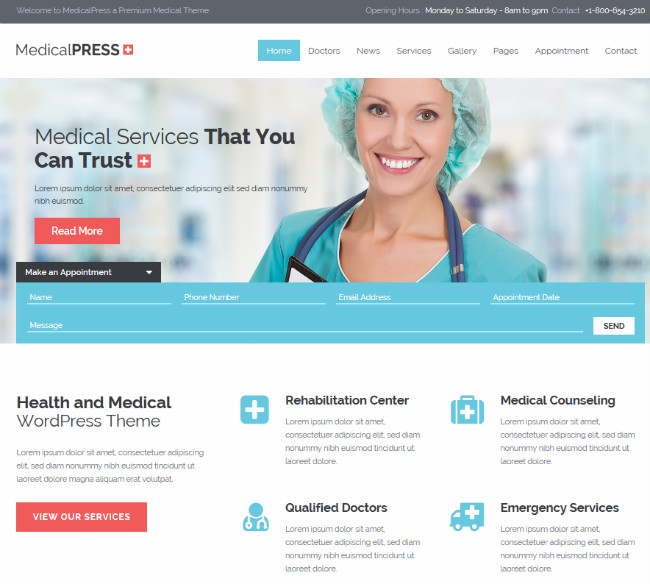 The entire goal behind MedicalPress – as the name implies – is to pander to a medical-oriented background. That's not to say it can't be used for a rehabilitation clinic, because it does include a whole slew of useful features. It includes integrated social functionality, appointment forms and related information, two types of front page sliders and a long list of customizable theme options.
In addition, the site is responsive, which means it will readjust according to the user's browsing device and resolution – which is extremely important since most people browse the Internet via a mobile device or smartphone.
A child theme is included, which allows you to edit and alter various aspects to match your brand without ruining the native theme itself. This saves you in the event that you make a mistake and screw up something on the backend of the site.
Further features include SEO optimization, WPML compatibility, Google fonts support, integrated contact forms and captcha support, and much more. MedicalPress is one of the cheaper options on this list, available from ThemeForest for $48 for a single-site license.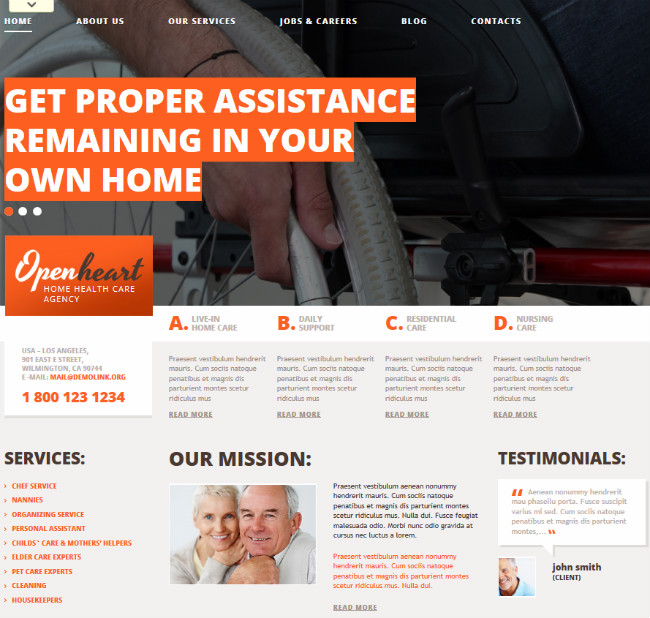 Since the Motivational Rehabilitation theme is from TemplateMonster like the first two, it includes a lot of the same features. The main difference with this theme is that it offers a mesh between a portfolio of services and a content-heavy site. You can display customer testimonials, your business goal and much more. Then, you can also offer up engaging content from your blog. It's like a two-for-one deal.
It's responsive, multilingual, offers customizable theme elements and much more. Just like the first two themes, Motivational Rehabilitation will set you back $75 for a single-site license.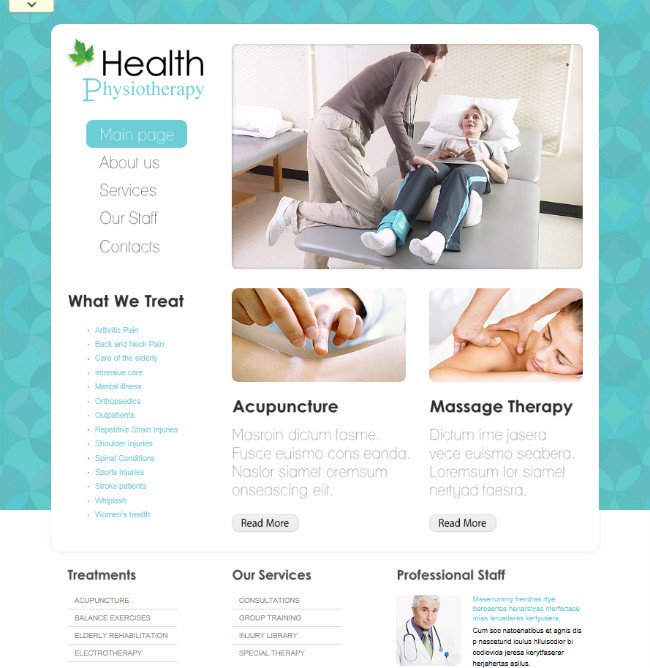 You might be sick of hearing it by now, but that's too bad. The Rehabilitation: Health theme is yet again from TemplateMonster (a good source for premium themes in the healthcare space). Unlike the others it is not responsive; however, it is widgetized which means you can completely customize the look and feel of the sidebar, header and footer areas.
This theme primary focuses on your clinic as a whole, and offers a space to include information about your services and staff. There is room to deliver regular and timely content, as well.
The Rehabilitation: Health theme is a little cheaper, ringing in at $65 for a single-site license.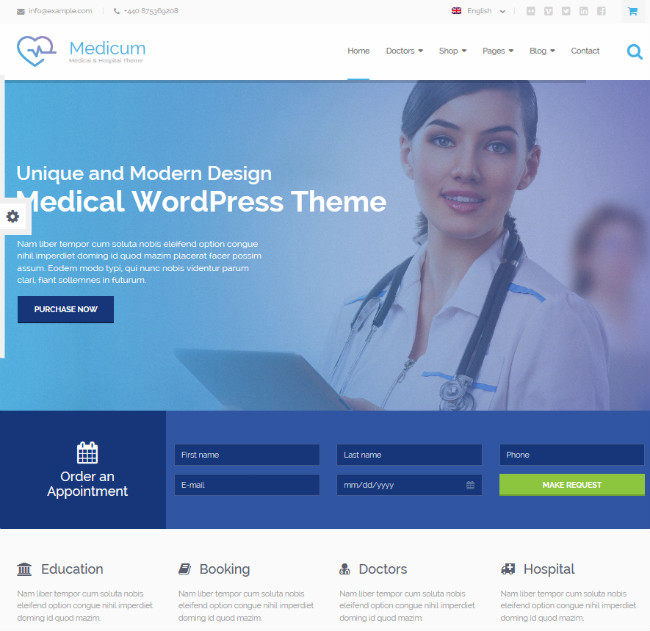 In my opinion, this is a much better general theme for rehab clinics looking to offer the best of both worlds. If you want to advertise your clinic and also offer helpful, SEO-friendly content, then installing Medicum is a great way to do it.
It is responsive, retina-display ready, includes several styles and layouts, is WooCommerce plugin ready and more. The Medicum theme is $58 for a single-site license from ThemeForest.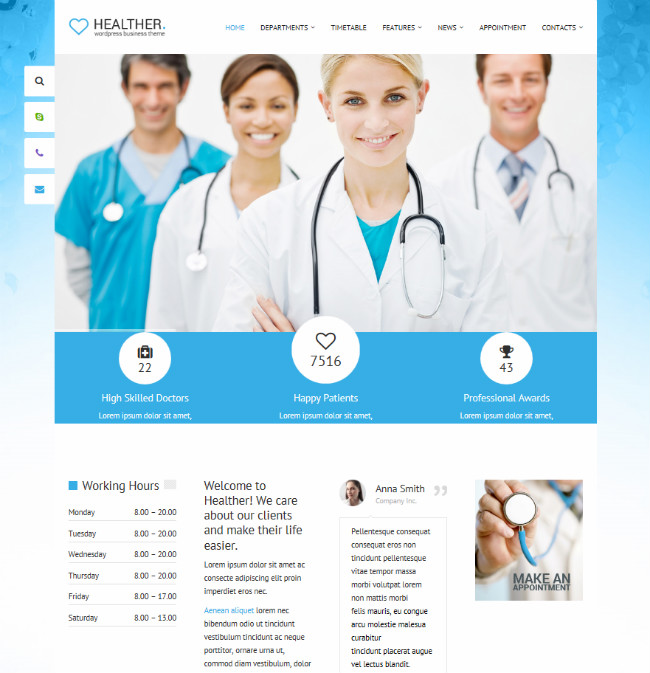 The Healther theme is ideal for clinics and rehab centers that want to help others first and foremost. In other words, if you don't want to just advertise your business on the front page but instead want to focus on delivering helpful and informative content, then Healther should be your first pick.
It's an attractive and responsive theme that utilizes a very clean and minimal style. The idea is to get the important content in front of your audience and visitors first. It's responsive and retina-display ready, includes a whole slew of backend and administrative customization options, and is updated regularly with new features and bug fixes.
The Healther theme is only $43 for a single-site license, which makes it one of the cheapest options on this list, as well as one of the best.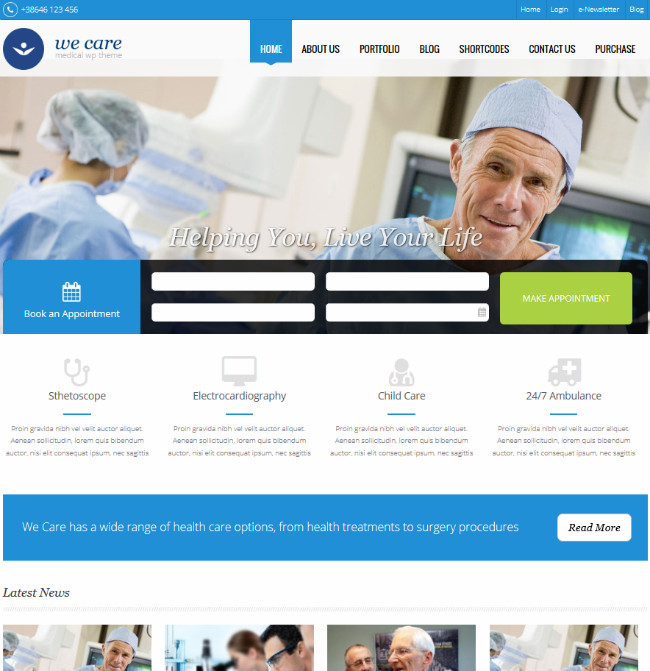 Aside from the cheesy name, the We Care theme has it all. If you want to display your regularly scheduled content on the front page, it can do that. If you want to market your clinic's services and bring in some new customers, it can do that. If you want to take appointments and get people help right from the start, it can do that.
We Care offers a responsive and full-featured design that's as robust on the front end as it is on the back end. Don't worry, if you have some great ideas when it comes to customizing this theme for your brand, you can definitely do it. There's a powerful administrative panel and dashboard included, with a long list of modifications and customizations.
The best part is that the We Care theme is only $48 for a single-site license through ThemeForest.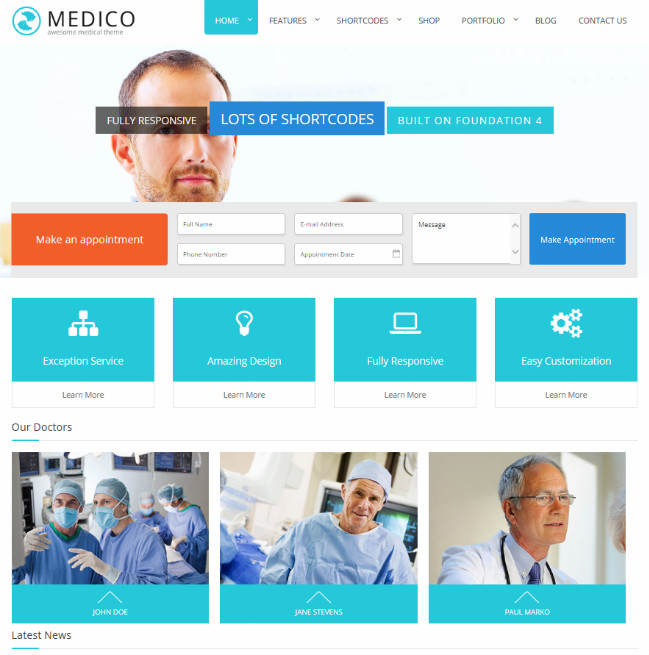 The Medico theme is another great, full-featured and responsive theme that allows you to do pretty much anything. It really has it all, so there's no reason to dive into detail. You name the feature, this theme has it. It is a little more expensive at $58 for a single-site license, however.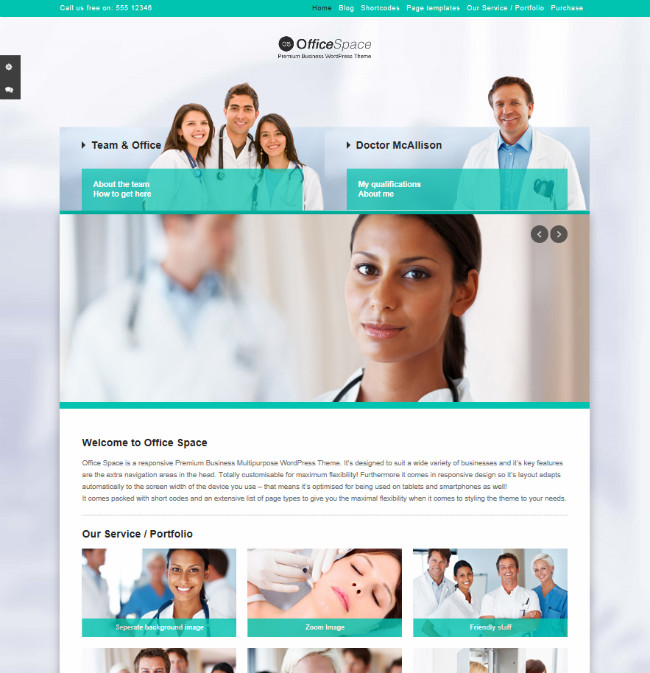 The Office Space theme is No. 1 for exactly the reason you'd expect it to be: It has absolutely everything and it's reasonably priced. It offers three different homepage layouts, more than 100 shortcodes, custom widgets and page types, customizable theme options and elements, a fully editable portfolio page, a responsive layout and much, much more. Head on over to the theme's detail page for more information if you're interested; the list of features is pretty long.
The good thing about this theme is that you can advertise your clinic, reel in new customers and help others through engaging content all in a single, viewable space. Some of the other themes offer the same support, but the front page itself is dauntingly large when all is said and done.
The Office Space theme is $48 for a single-site license from ThemeForest.
Other Options
Healthcare Pro
Healthcare Pro is a mobile responsive WordPress theme designed for doctors, clinics, nurses, medical and healthcare professionals. The premium theme from FrogsThemes is a turn-key solution that can be installed in 1 click and comes with a range of features to easily manage your websites.
Some of the key features of the Healthcare Pro Theme include: a drag and drop page builder (with 50+ feature shortcodes), custom page templates (jobs, pricing tables, FAQs, image galleries and more), blog section, contact forms, sidebar manager, custom menus, Google fonts, FT Options Framework, upload your logo, widget ready zones, social media integration and more.


Price: $49
Demo & Release Page | Download
A Final Option: Build Your Own Theme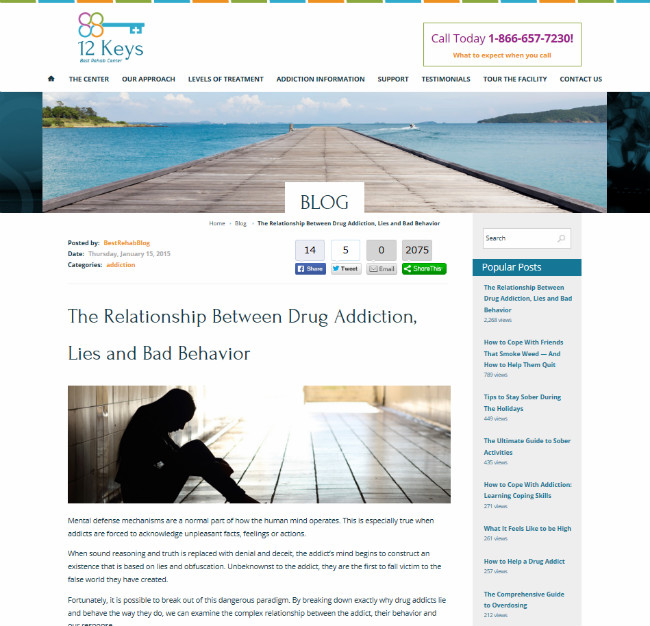 While a lot of the themes on this list are excellent, they can at times be restrictive depending on what you want to do with your site or blog. That's actually why a lot of companies will heavily customize a theme – or even create one from scratch – that completely speaks to their needs. In fact, there are a few rehabilitation clinics out there that have done this very thing. For instance, 12 Keys Rehab has an entirely customized theme for its site that offers a lot of the same features the themes listed above do. However, it exactly fits the breezy Floridian vibe they want to show off to their visitors, which no premade theme could do quite as effectively.
There's also something to be said for uniqueness. With your own theme, you can be sure that no other rehab center's website will look the same as yours – and you can be confident that you will be harder to imitate, as well.
It just depends on what you want for your site, clinic and brand. The important thing is that you take some time to really put together a site that fits, whether that be customizing an existing theme or creating one entirely from scratch.
Hopefully we helped you find a few rehab center WordPress themes that fit the bill. Good luck!
Adrienne Erin is a freelance designer, writer, and WordPress enthusiast. When she's away from her computer, she loves cooking and pursuing a healthier lifestyle. Follow @adrienneerin on Twitter to get in touch, or visit her blog Design Roast to see more of her work.