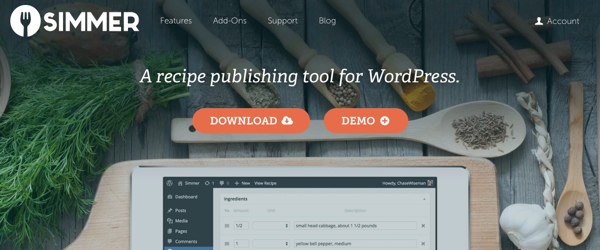 Simmer for Recipes is a recipe plugin for WordPress that allows you to quickly and easily publish recipes attractively on any WordPress website.
The free plugin is lightweight, easy to use, highly extendable and comes with all the features you need to publish recipes in your WordPress posts. A premium membership option is also available for Simmer that gives you premium support, add-ons, and a variety of other helpful benefits for food related businesses using WordPress.
Simmer for Recipes WordPress Plugin
The Simmer for Recipes plugin has an elegant and user friendly drag and drop interface that lets you add ingredients, step-by-step instructions, sub-headings, structured cook times, and a lot more.
Back-end with drag & drop interface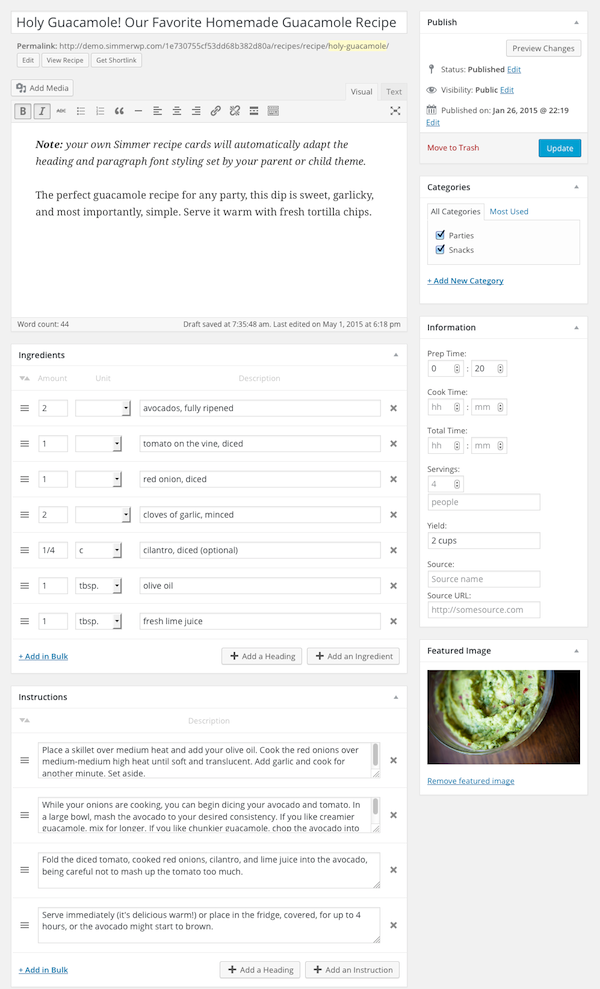 Example recipe using the 2015 default WordPress theme


The key features of the Simmer for Recipes plugin include:
Bulk-add ingredients & instructions – users can quickly type out or copy & paste a list of ingredients or instructions and that text will be intelligently transformed into correctly formatted recipe elements
Semantic structure and schema.org microdata – your content will be automatically indexed using rich snippets for recipes and universal schema.org structure, which translates to beautifully displayed recipes on both Google and Pinterest
Drop and Drop UI – easy to use drag and drop interface lets you revise and edit recipes efficiently
Printing – front-end recipe printing using an automatic, simplified print stylesheet with only your recipes' important data
Meta Recipe Data – includes fields for preparation, cook, and total times, in addition to servings, yield, category, tags, and a featured image
Mobile Optimized – all recipes are fully responsive & ready for mobile depending on your theme out of the box
Archive Structure and Permalinks – allows you to define your /recipes/ archive location and permalink prefixes to display recipes at their root source rather than always embedded in posts or pages
Subheadings – add multiple parts if needed
Social Sharing – works with any social sharing tools including AddThis
Create custom recipe card themes & styling easily
Widgets: display your most recent recipes and/or recipe categories in your sidebar
Recipe categories
Recipe authors
Embed recipes anywhere in your posts or pages
Featured thumbnail for each recipe
Ecommerce add-ons available
Easily Extendable – built with developers in mind. You can extend and customize the plugin for any project utilizing the ever-growing list of action and filter hooks, as well as customizable template files
Add-Ons
Simmer have a number of premium add-ons for the Simmer for Recipes plugin that further extend its functionality and enhance your recipes.
Recipe Connector – gives you flexibility in pairing posts with recipes and vice versa. You can attach multiple recipes to a single blog post to keep your recipe database clear and concise.
Tinypass for Simmer – an extension that allows you to monetize your food, drink, or recipe content by providing a variety of payment options, including "leaky meter," "paywall," and other types of innovative micro-pricing options for content on a per-item or subscription basis
Simmer Membership
While the Simmer for Recipes plugin is free, Simmer also offer premium membership packages that give you premium support and access to a variety of members only benefits that are helpful for food related businesses and bloggers using WordPress.
Simmer membership starts from $99 / year and provides the following benefits:
Premium support – direct access to the developers to recieve help with – code, design, strategy for your web or mobile app, help troubleshoot, make changes to code, or determine any conflicts with existing plugins, and even live chat support
Discounts – over $1,000 in small business savings to food-related businesses
Premium content & training – access to exclusive blog posts, learning materials, podcasts, videos and extensive guides for growing your food or lifestyle business
Mobile apps – message the team anytime to brainstorm mobile app strategy, marketing and more
Better affiliate payouts
People directory listing
Early access to new products and add-ons
Member's only products
Wrap Up
If you're a foodie blogger or you run a food business website with WordPress you should definitely give the Simmer for Recipes plugin a try. You can download the plugin for free and learn more about the features and benefits of Simmer at simmerwp.com