Handmade Two is a beautiful retro styled premium WordPress theme for bloggers, foodies and crafters. Handmade Two is an updated and improved version of the original Handmade theme that Obox Themes released in 2011. This new version two has some visual design changes, the code has been rewritten to modern standards, and it now has a mobile responsive layout.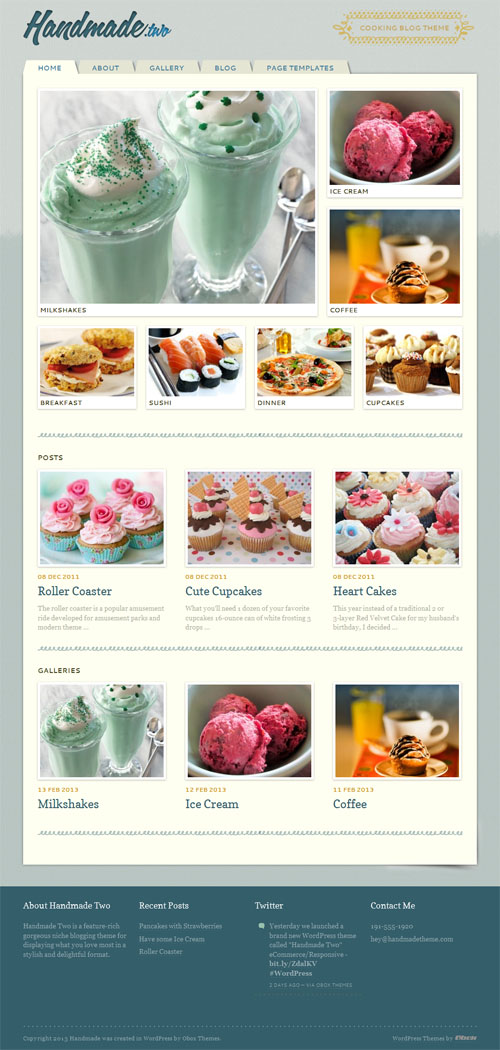 Handmade Two is mobile friendly with a fully responsive layout that serves visitors an optimised experience no matter what screen size and device they are using. It works perfectly on everything from large high res monitors right down to small iPhone screens and other mobile devices.
The theme has ecommerce support and works as an ecommerce site if you wish. Handmade Two integrates the popular WooCommerce plugin out of the box so you can instantly turn your site into a fully fledged ecommerce store, or just have a shop section on your website so you can selling anything you like.
Handmade Two has a beautiful custom homepage layout as well as custom templates for blog, gallery and ecommerce sections. The portfolio section allows you to showcase your best work in one, two or three column portfolio layouts and you can categorise work into relevant sections. The theme is also packed some great video and image functionality with auto video and image resizing, auto thumbnails, the ability to display statistics like views and plays and more.
It's clear that a lot of work and care has gone into this theme with its amazing attention to detail. From the spacing to buttons to typography to borders, every element in the theme has been carefully and thoughtfully designed. So if you need a beautiful and high quality theme for your food blog, cooking site, art and craft website, ecommerce store or unique blog site, Handmade Two is a great choice.
Key Features
Mobile Friendly Responsive Layout – the theme is 100% responsive and mobile friendly so will work on any screen size and device. Visitors will have an optimal reading experience every time.
Portfolio Template – allows you to showcase your work in 1, 2 or 3 column layouts. You can upload multiple images to a single post and add relevant copy
Ecommerce Functionality –WooCommerce ecommerce plugin support built in so you can turn the site into a full ecommerce store or just have a shop section on your site
Custom Fonts – the Obox Typography Manager lets you change all of the fonts and style as you like
Visual Customization – uses the WordPress Visual Customizer so you can make changes to the background, link colours, logo and other parts of your theme
Social Links – the theme includes the Obox Social Icon pack so you can add social widgets to your sidebar and footers etc.
Video and Image Functionality – the theme is packed with awesome video and image functionality. Auto image and video resizing, automatically create video thumbnails and display statistics like views and plays, and host your own videos.
Custom Menus – ultimate control with how your menu items show up on your website
Custom Backgrounds – you can simply change the background of your site to a custom colour or image of your choosing
Add Your Logo – add your own logo to your theme quickly and easily in the visual customizer
Integrated Blog – comes with its own blog so that you can write about your products or company news
Easy Installation – simple and easy step-by-step colour coded installation process
More
Price
Standard Pack: $79
Developer Pack: $139
Demo & Release Page | Download

Obox Themes have premium themes with gorgeous designs and functionality. Styles include magazine, blog, business, ecommerce, video and multimedia, portfolio, and tumblog