If you're a musician, a band, a music producer, a DJ or just want to build a music news website or blog you need a great looking, professional website design. There are quite a number of high quality music WordPress themes available that have been specifically designed for musicians, bands and music bloggers. It doesn't matter if you're popular already or trying to make it big, a good website is essential. It will allow you to get your name out there, connect with your fans, promote your live performances and tour dates, let people listen to your music and watch your music videos online, browse your photos galleries, check your album discography and buy your merchandise.
The music WordPress themes below include the features a musician needs in a website right out of the box so you don't have to waste time struggling to build a website when you'd rather be just making music or writing about the latest songs and bands. WordPress is an excellent platform to build a band or music website because it's easy to set up and operate, and best of all free. These premium music themes are very reasonably priced so you can get a professional looking websites up and running for less than cost of a couple of CDs (yeah old school).
This post showcases 12 beautiful WordPress themes for musicians, bands music producers and music bloggers. Its only a sample of the WordPress music themes available so make sure you also have a look at our complete gallery post which has ALL of the best music WordPress themes or browse the music WordPress themes category.
Hammer WordPress Theme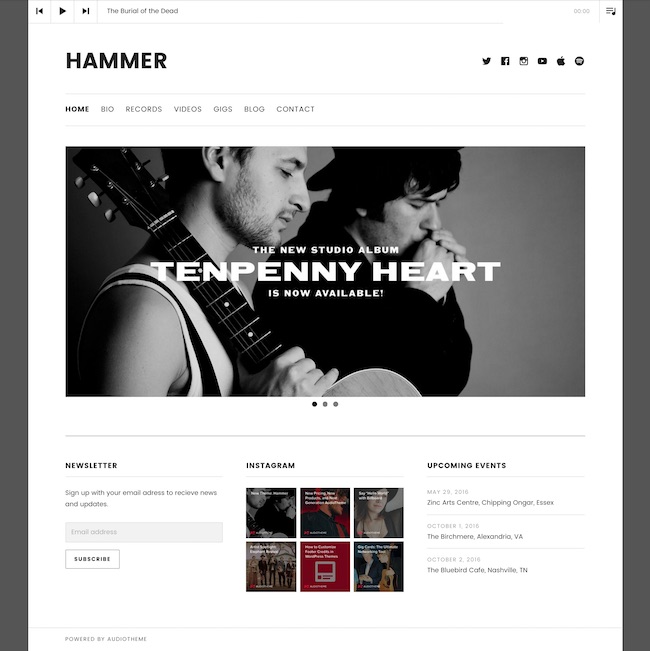 Hammer is a professional music WordPress theme from AudioTheme. The premium theme has a modern and minimalist design suitable for all musicians and music styles. It also comes with all the musician essential features a band or musician needs in a website. Some of the key features and benefits include: full support for the AudioTheme plugin, site-wide audio player, upcoming and past gigs list with details, discography page, single records and tracks pages, video library, Easy Digital Downloads and WooCommerce support for ecommerce, JetPack support (for testimonials and portfolio), homepage image slider, masonry blog, mobile responsive, custom fonts and customization options (colors, logo, background etc), custom widget support and more.
Acoustic Music WordPress Theme
Acoustic is a slick and feature packed music WordPress theme for solo artists, bands, DJs, collectives, club owners, music producers, event producers and anyone else in the music industry. It has custom post support for events, discography, video, artists, galleries and other things. It has a theme settings panel, colour change options, 10 custom widgets, 4 homepage layout options and more.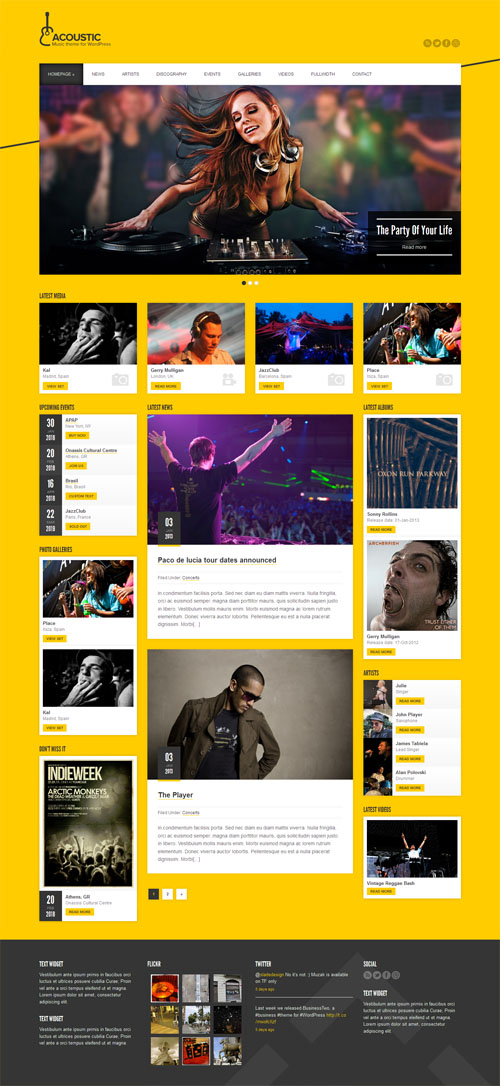 Demo & Release Page | Download
EPROM WordPress Music Theme
EPROM is a WordPress theme designed for the music industry. It could be used by DJs, music producers, events producers, as well as band or musicians. The theme is packed full of options including a powerful template management panel to easily customise the theme to your needs, shortcodes manager, 350+ fonts, unlimited colours, 6 custom post types (releases, gallery, events manager, artists, tracks manager, slider), unlimited sidebars, and a responsive layout making it mobile ready.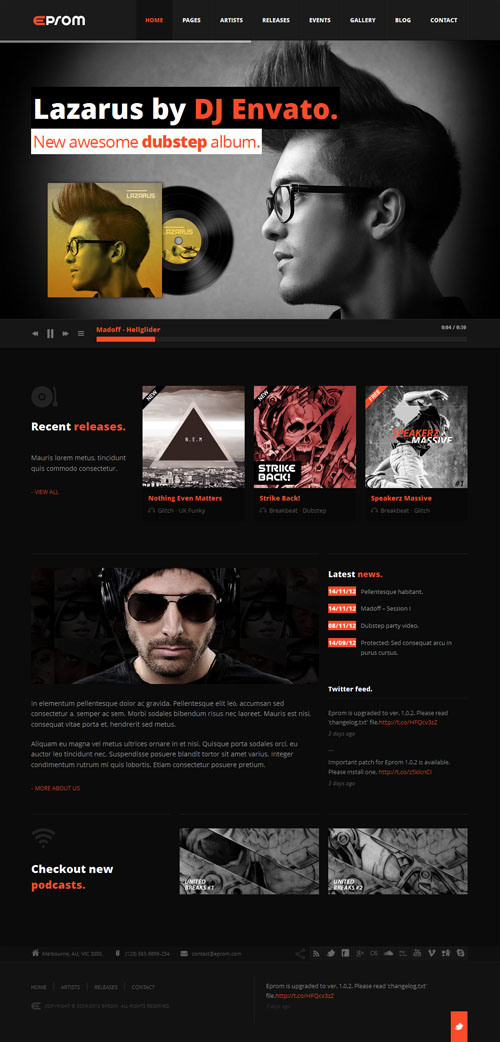 Demo & Release Page | Download
Clubber Music WordPress Theme
Clubber is a music and events WordPress theme. It's ideal for DJs, club music fans, and music blogs. It comes with light and dark colour styles, events manager, audio player, theme options panel, 8 custom widgets, Google fonts and more.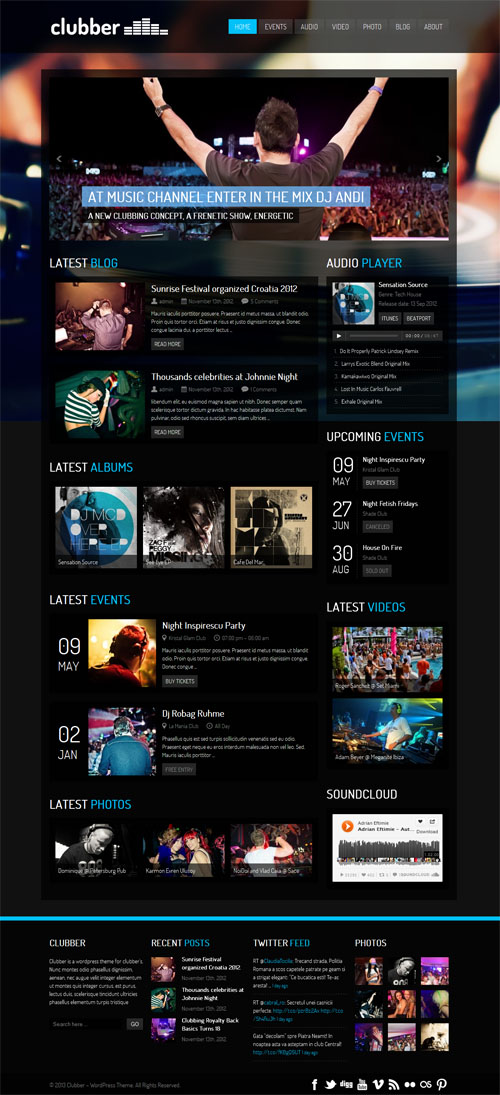 Demo & Release Page | Download
Sound Rock Music Band WordPress Theme
Sound Rock is specifically designed for bands and music websites. The main features include a responsive design, 3 slider types, album and track management, gallery management, theme options panel and page builder, full RTL support, 9 custom widgets, unlimited sidebars and more.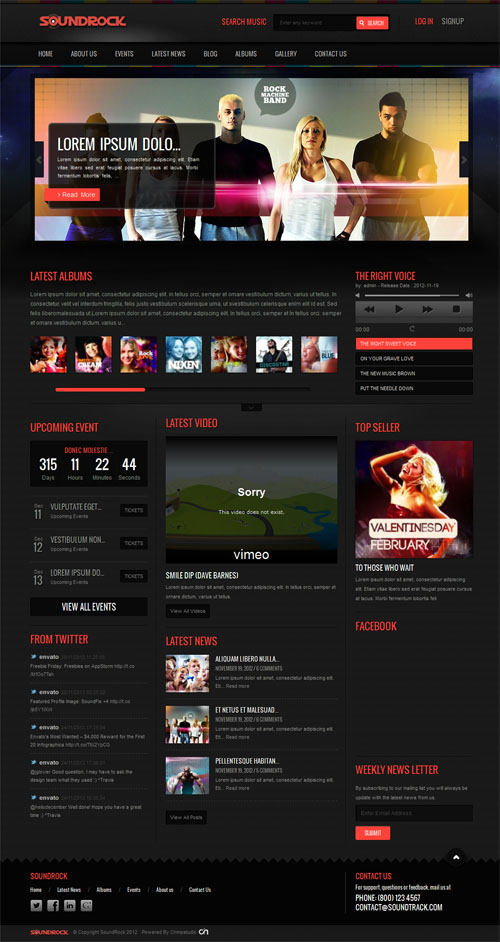 Demo & Release Page | Download
Live Music WordPress Theme
Live is a premium WordPress music theme designed specifically for music lovers. It includes all the features you need for your band or label, to present, promote and sell your work online. It has a responsive design so will display nicely on any device, from wide large screen monitors to small smartphone displays. Some of the features include multiple playlists, store section with PayPal integration, show dates, video and photo galleries, 8 post formats, shortcodes and options to build and customise your theme.


Demo & Release Page | Download
Rockit Now Music band WordPress Theme
Rockit Now is a cool WordPress theme for bands and musician websites. It has 8 pre made colour skins and includes a range of options for musicians. It has album and track management options, galleries, events management and calendar, social networking options, powerful theme options and page builder, unlimited sidebars and more. The theme also has a responsive design making it mobile ready.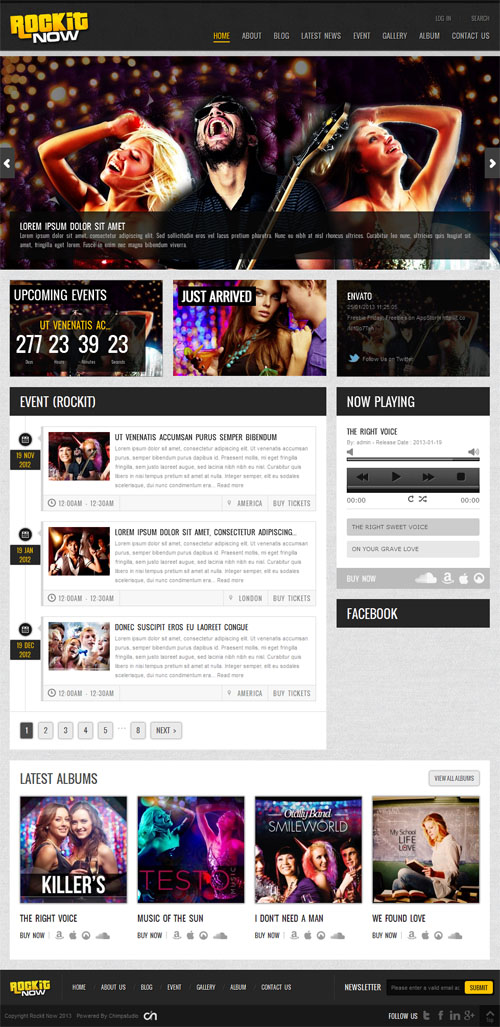 Demo & Release Page | Download
Replay Responsive Music WordPress Theme
Replay is a professional WordPress theme perfect for musicians, bands, record labels and any music business. The theme has a built in HTML5 audio player to play self hosted mp3 files. You can use a featured tracks player on the homepage, add the player everywhere with shortcodes or attach a few free tracks to any release. It has custom post types and editing tools for managing artists, releases, videos, galleries, events and slides. The theme also has a powerful theme options panel fully change fonts, colours, backgrounds, slider settings, switch between page layouts, create sidebars, edit contact form fields and more.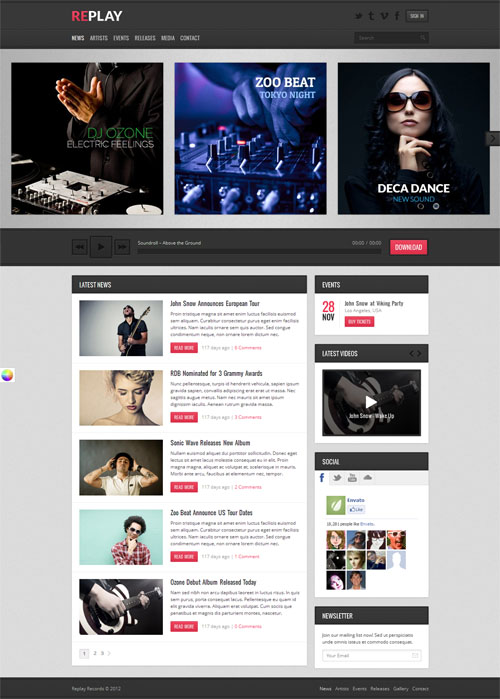 Demo & Release Page | Download
Muzak WordPress Theme
Muzak is a responsive music WordPress theme for bands, musicians, DJ's and everyone else in the music industry. The premium theme has all the features required in a music website including: an inbuilt events management module so you can nicely display your upcoming events, discography management to display info about your music and albums, video and photo galleries. The theme also includes the ability to share your music with your fans using either self hosted audio files (using JWPlayer) or embedded sounds from SoundCloud. Some of the other features include 3 homepage layout options, background management, theme settings panel, and a fully responsive design so its tablet and mobile ready.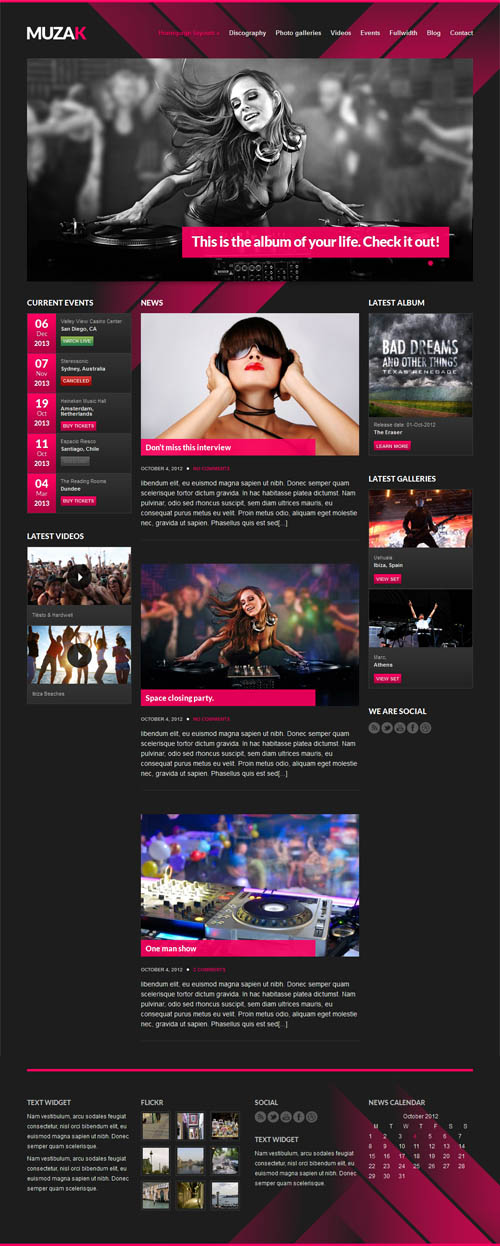 Demo & Release Page | Download
Soundboard Music WordPress Theme
Soundboard is a great looking and powerful music WordPress theme with special features for bands and solo artists. The premium theme has just about everything you need for a music website, allowing you to display your tour dates, discography, videos, images and sell your band merchandise. The theme is easy to use even if you don't know any code, but also great for developers to use. It has custom post types and templates to add an image gallery, video gallery and a discography including album artwork, song titles, release date, buying options, lyrics, and audio players. You can also upload self-hosted video and audio files via JW Player. Soundboard is also compatible with the WooCommerce ecommerce plugin so that you can sell your band merchandise online.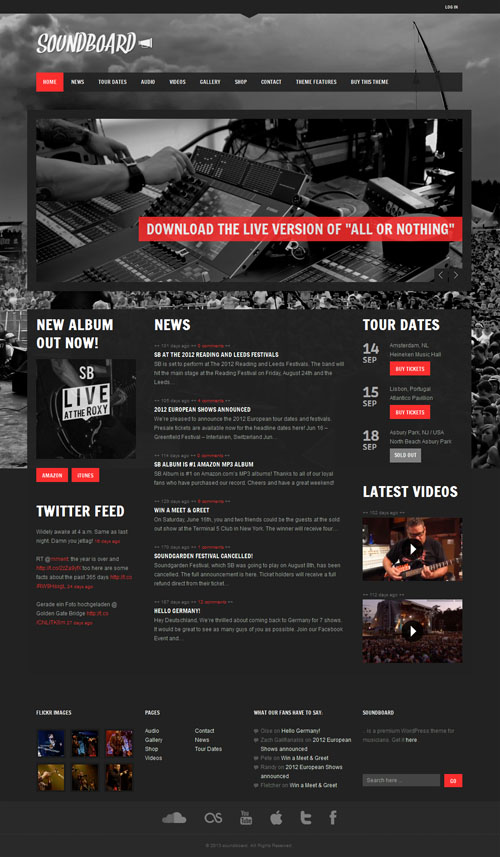 Demo & Release Page | Download
Music Pro WordPress Theme
Music Pro is a music oriented WordPress theme, perfect for a band, a label, or a webzine. Features include multiple playlists, discography page, photo and video galleries, social share buttons, store with PayPal integration to sell merchandise, and show dates section. It has 3 pre made skin colours – dark, light and grunge. Music Pro also has a widgetzied homepage so you can build your custom layout, and a theme options panel to easily set up and change things.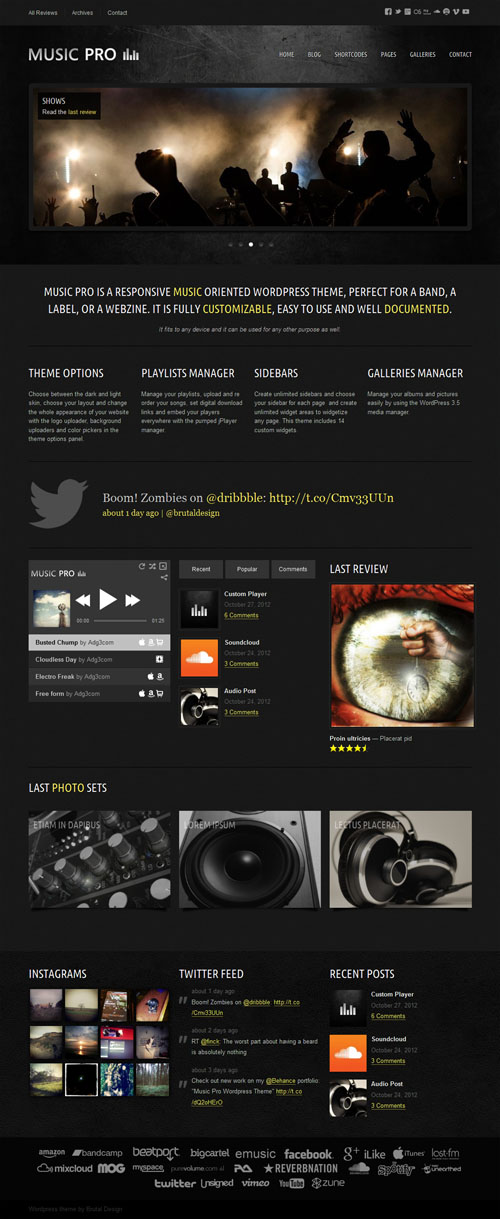 Demo & Release Page | Download
Music WordPress Theme
Music is a smart WordPress theme with unique features for the music industry. It has a powerful music player, unique events calendar, album and lyrics, Facebook and Google maps integration, numerous custom widgets and more.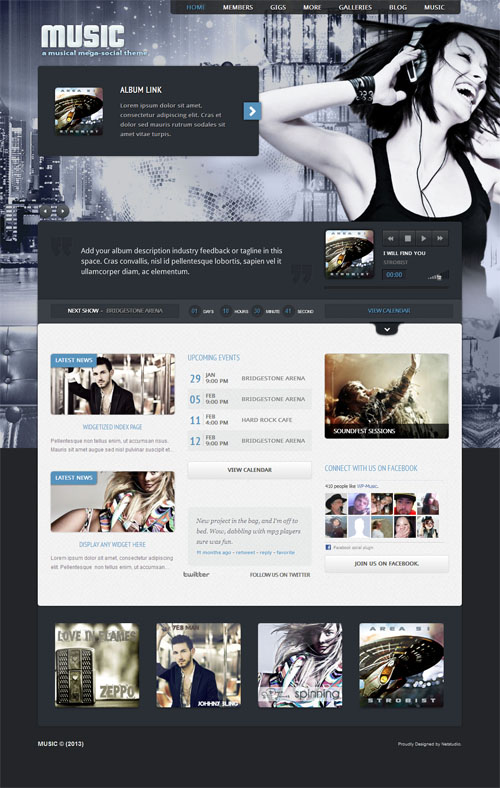 Demo & Release Page | Download
MORE MUSIC THEMES
This posts lists only a handful of music themes that are available. Check the posts before for more themes:
The Best WordPress Music Themes Collection
Gallery with ALL the best WordPress music and band themes
30 Awesome Band & Music WordPress Themes