Security is of utmost importance for all websites but especially for business websites. WordPress by and large is a secure Content Management System with very few vulnerabilities in the security department. Yet if you run a successful website or a widely read blog, chances are you might be targeted by malicious elements on the internet.
So you need to insulate yourself from these would be attackers.
Better to be safe than sorry. In keeping with that premise let's have a look a few free and premium WordPress security plugins that would make it near impossible to break down your website's defenses.
A few free plugins to start with for your WordPress security
Wordfence Security

Upon installing this behemoth of a gatekeeper, the plugin gets to work immediately; a server-side scan of your website is underway. The plugin compares the code of the themes installed and compares it with the themes available in the WordPress.org repository looking for anything that looks out of place.
Wordfence also offers its users a premium API key, that can be used for ticket generation for support purposes. With Wordfence you can enable SMS authentication, country blocking and automatic scans at timely intervals. The plugin is loaded with Falcon Engine which is a fast caching service that makes your websites faster.
The plugin works well with all the other major plugins which is important, as a weakness in any one part of your website's defenses affects your entire website. The plugin has advanced IP blocking features and is compatible with WordPress multi-site.
Full Details & Download | Free
Bullet Proof Security

A security plugin that emphasizes database protection and backup in addition to login protection measures. Bullet Proof Security also protects .htaccess files by equipping firewalls to defend against would be mischief makers.
The plugin itself is easy to use with a single click install wizard mechanism. The plugin is loaded with an Auto Intrusion and Prevention system, a Quarantine Intrusion Detection and Prevention System. The use of this plugin is as easy as the installation process, you can utilize a one click setup method or choose your plugin's functions separately.
The plugin includes separate back/front end maintenance modes and provides comprehensive database backup options.
Full Details & Download | Free
iThemes Security

Formerly known as "Better WP Security", this plugin provides extensive protection features for a WordPress run website with over 30 different protection features. iThemes Security works by correcting security loopholes, strengthening user credentials and stopping automated attacks.
The plugin is capable of even more when you purchase the PRO version. This security plugin prevents brute force attacks, obscures any vulnerabilities on your website, detects bots scanning your websites for vulnerabilities and reports changes to to file system that may cause vulnerabilities.
Full Details & Download | Free & $80 for the PRO version
Sucuri Security

A plugin designed by Securi Inc, a security suite to add to the protection of your WordPress website. Securi Security offers a number of features including Security Activity Auditing, File Integrity Monitoring, Remote, Malware Scanning and Blacklist Monitoring. The plugin also goes a step further to offer Post-Hack Security Actions and Security Notifications.
If you want a firewall to protect your website then you'll have to use an add on, specifically Sucuri Cloudproxy .
The plugin also checks if you end up on any security blacklist engines like Google Safe Browsing, Norton, AVG, etc and if you have the plugin helps get you off that list. After all, you don't want your website marked out for reasons involving security, that would very bad for traffic growth.
Full Details & Download | Free
All In One WP Security & Firewall

All in One WP Security & Firewall, a security plugin that enforces the best security practices on your website.
A plugin designed to test and seek out vulnerabilities on your website and patch them up with the best techniques and safe practices. The plugin also has a points system to show how well your website is being protected, a great feature for a WP newbie.
The firewall functionality works in three stages; basic, intermediate and advanced. This is done, so that you can apply the firewall progressively without breaking your website's functionality.
The protection packages are broken up into User Accounts Security, User Login Security, User Registration Security, Database Security, File System Security, htaccess and wp-config.php File Backup and Restore, Blacklist Functionality, Firewall Functionality and more. Each part of the plugin has been developed for one purpose, the maximization of security measures on a WordPress website.
Full Details & Download | Free
If you are looking for even more muscle to beef up your website, then here a few premium plugins.
Smart Security Tools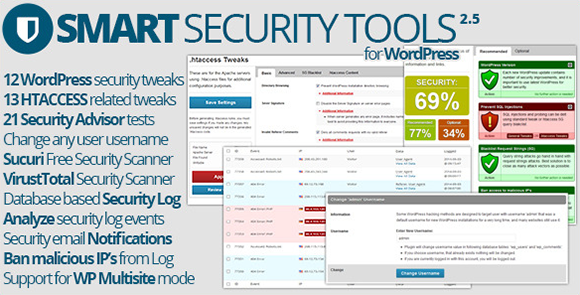 A powerful premium plugin that adds a bit of extra mortar to your WP walls. The plugin contains a number of tweaks that increase your website's security.
The plugin also offers a feature called the Security Advisor to help along people new to WordPress. Like any of the aforementioned plugins it tracks WordPress vulnerabilities and helps you address them one at at time. The plugin supports multi site use.
Full Details & Download | Price: $20
Security Ninja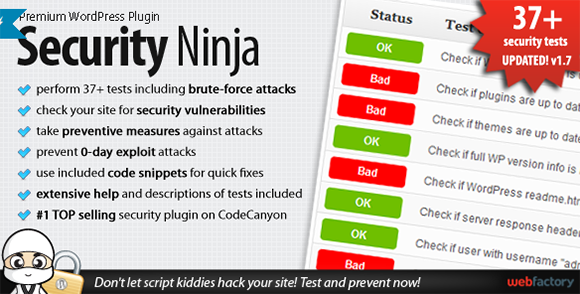 Your website's own ninja to protect to you! This bad boy will help check your website for vulnerabilities by performing over 35 different security tests including brute force attacks.
Security Ninja employs a number of preemptive measures to ensure your website's safety. The support for this plugin is quite good as well, with extensive help options and description of tests.
Security Ninja can work along side three other plugins that improve greatly, the functionality of this plugin. You might be inclined to believe that the makers of the plugin might be trying to rip you off by packaging 3 different add-ons, it couldn't be further from the truth. The cost of Security Ninja and the three add-on would come to a grand total of $30. So you can choose and pick only features that best work for your website.
Full Details & Download | Price: $11 for Security Ninja only
Login Ninja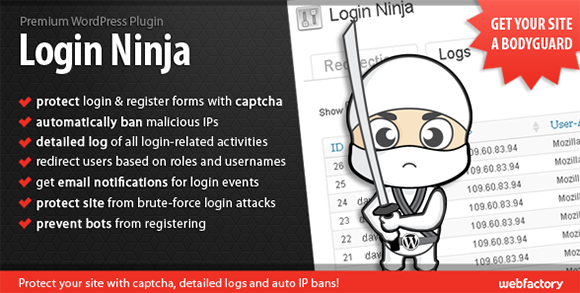 Yet another Ninja plugin, this one specializes at defending your login pages from brute force attacks. You can safeguard your forms from malicious attacks and spammers with the help of this plugin.
If you run a website with a large number of members, then this plugin can help you track the activity of all members. You can enforce redirects based on roles and usernames. The plugin takes care of any IP performing a brute force attack by automatically banning it from your website.
Full Details & Download | Price: $17
Guaven FP
A plugin that provides variation, from the standard security plugin. The plugin allows you to get rid off all traces of your theme name and your WordPress source code.
If you can't identify your opponent you can not defeat him/her, the same goes for crackers and themes. If you can't identify the theme or find the WordPress source code, it becomes incrementally difficult to find vulnerabilities and exploit them.
I would recommend it only for the most safety safety conscious websites and only in addition to a standard security plugin, not as a standalone security plugin.
Full Details & Download | Price: $14
5sec Google Authenticator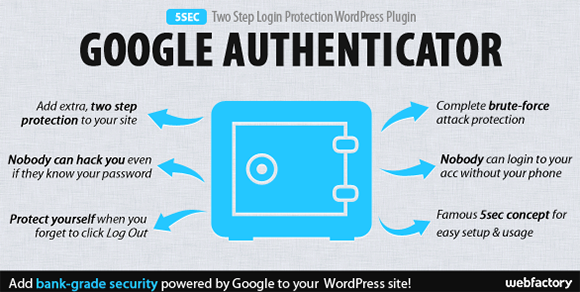 Woah! This plugin packs an extra punch with One Time Passwords, that only a registered mobile phone receives. Seems familiar? Yea your bank sometimes asks you to use this method, while making online transactions.
The OTP is valid only for two minutes. My bank provides an OTP that is valid for 24 hours. I wouldn't say that this plugin is overkill, it depends on necessity. The plugin is loaded with an auto logout feature and provides protection against brute force attacks.
Even if someone had your password, they couldn't access your website's admin page without direct access to your mobile phone. So unless, someone in the next room is trying to break into your website, you're covered.
Full Details & Download | Price: $17
Conclusion
Every one of the free plugins covered is an awesome plugin in its own right. Almost all of them have been downloaded near about half a million times on WordPress.org. Although,  iThemes Security  &  Wordfence are the more popular plugins.
If you find that the free plugins do not meet your website's security standards and need a bit extra, then have a look at the premium plugins. Each premium plugin has a specific inclination towards different functionality, you'll have to choose one that serves your website's safety the best.
I hope this roundup helps you find the best security solution for your WordPress website.
Written by Vishnu Supreet. TV shows and PC games keep me occupied, when I get time off from my Bachelors degree in mechanical engineering. I engross myself in technology, invest in the stock market and read cool stuff! And a freelance writer for hire! I pen my personal thoughts on my little WordPress blog!
Connect with Vishnu on Google Plus / +VishnuSupreet and Twitter / @vishnusupreet.