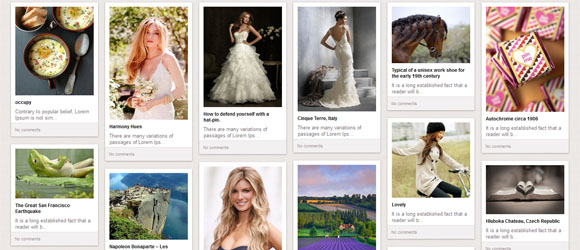 This collection of 10+ fantastic Pinterest WordPress themes will help you create a nice Pinterest style website with WordPress in no time. Pinterest is one of the fastest growing social networks online. With a visually-pleasing "virtual pinboard" interface it allows users to collect, organize and share their favorite images, videos and objects they find online.
If you're looking for a Pinterest clone template or just want to create your own website with a Pinterest style design and features such as infinite scroll and a fluid grid structure, the 10+ premium WordPress themes below are great options.
PinsPro WordPress Theme
PinsPro is a cool pin board style drag and drop WordPress theme inspired by Pinterest. The premium theme from PageLines is ideal for websites showcasing fashion, trends, design and other graphic heavy content. PinsPro is a stand-alone WordPress theme powered by the cutting edge PageLines DMS Framework. This means it gets the drag and drop functionality and all the other great features of PageLines DMS as well as a bunch of other features and sections.
Some of the key features of the PinsPro theme include: a mobile responsive design (looks great on any device and screen size), auto stacking layout (uses the Masonry framework to dynamically arrange the pins), infinite scroll (posts load automatically when you reach the bottom of the page), a customisable scroll slider, PostPins (allows you to choose between lazy loading posts or allowing your visitors to grab posts via a button), PinBlog (allows you to display your latest posts in style with social, like and comments buttons), special ecommerce / shop styling, gallery sections, and all the other great functionality and features of the DMS Framework.

Price: $99
Demo & Release Page | Download
Pintores WordPress Theme
Pintores is a Pinterest like WordPress theme that allows you to share all sorts of media as well as blog in style. The premium theme from cssigniter has a fully responsive design that adapts for mobile visitors. It supports post formats allowing you to post music tracks, videos, images, photo galleries, quotes, links as well as normal posts. Other features include built-in favourites marking, numerous shortcodes, 5 colour options, powerful theme options panel and more.


Price: $39
Demo & Release Page | Download
Pinboard
Pinboard is a Pinterest like WordPress theme from Themify. The premium theme has a responsive design and auto stacking layout so it looks great on any device and screen size. It has infinite scroll, with posts loading automatically when you reach the bottom of the page, or an option for traditional page number navigation. You can use Pinboard to publish various types of media images, videos, galleries, lightbox content such as image zoom, video popup or iframe window. The extensive media support allows you to use it as a blog, portfolio, gallery, or video site. Other features include 3 grid layout options (small, medium and large), author avatar picture, 7 theme skins, theme options panel and more.
Themify have released Pinboard version 2. The new version now includes multisite integration and social sharing features. It allows you to setup your site as a multisite that enables users to sign up and publish posts on your site – so you can create a website just like Pinterest. The Pinboard multisite feature means users can register on your site to create their own micro sites. When posts are published on the micro sites of your network, they are then synched to also show on your main site. Working just like Pinterest. Some of the other new features include custom signup and login forms, social sharing buttons with counters, lightbox popup option and more.


Price: $49
Demo & Release Page | Download
Pinspired WordPress Theme
Pinspired is a lovely Pinterest style WordPress theme from Restored 316 Designs that runs on the Genesis Framework. The theme has a minimalist white design that allows you to show off all your posts in a pinterest-like format along with a "like" button for people to like your posts. The theme has a responsive design that will automatically adapt to look great on all mobile devices. Some of the other key features of the theme include: 7 colour scheme options, 3 layout options, styled social sharing icons, widget areas below posts for ads or subscription access, custom background and logo, HTML5 markup and all the other features and benefits of the Genesis Framework.


Price: $50
Demo & Release Page | Download
Pinfinity
A beautiful Pinterest like WordPress theme from CSSIgniter. The premium theme has a mobile responsive design with infinite scroll and supports multiple entry formats like Blog Posts, Images, Photo Galleries, Videos and Quotes in a very cool way. The theme has a favourites feature that lets users mark their favourite posts, shortcodes, and inbuilt audio player to share audio tracks, theme options panel and more.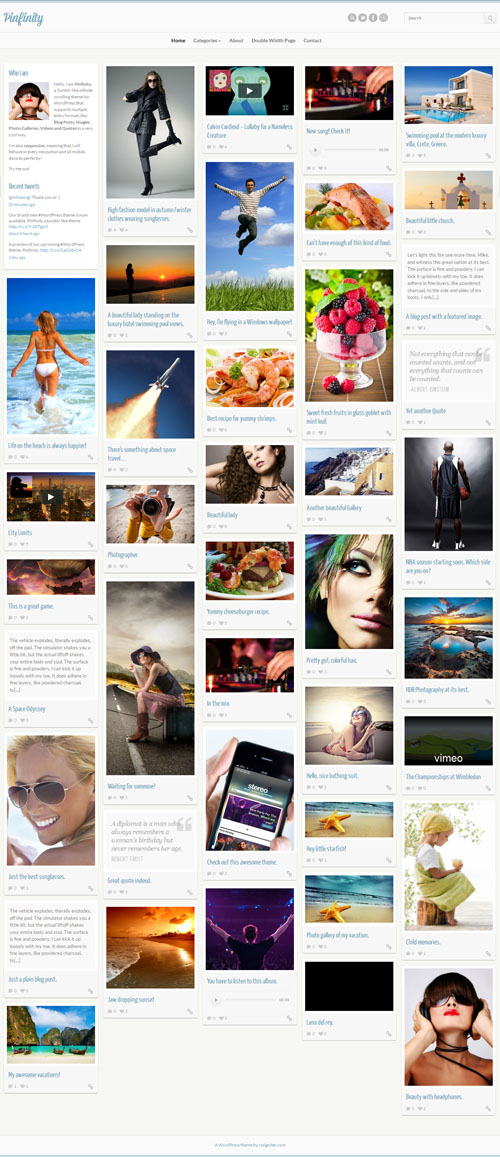 Price: CSSIgniter Membership: $39 (unlimited access to all themes)
Demo & Release Page | Download
The Style
A multi-purpose premium WordPress theme from Elegant Themes with a crisp, modern design with a big visual impact. The theme has a fluid width design layout, 5 unique colour schemes, optional traditional blog style structure, advanced theme options panel, large shortcodes collection and more.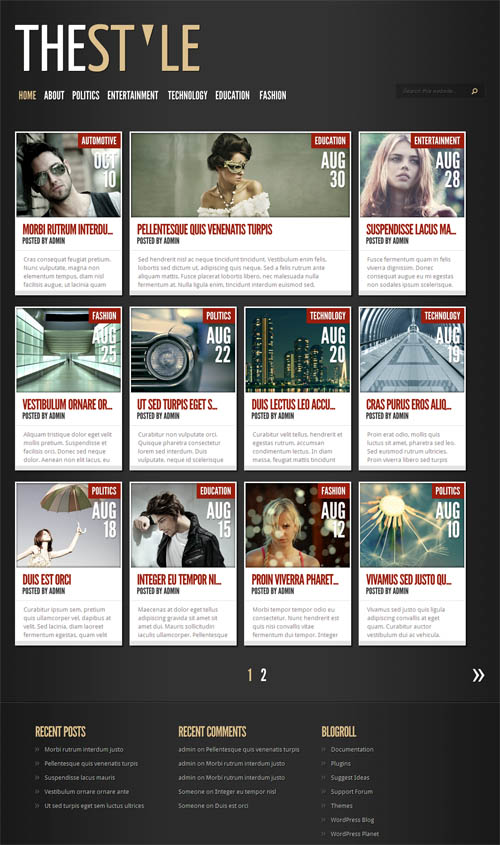 Price: $69
Demo & Release Page | Download
Folio Grid
Folio Grid is a clean and minimalist WordPress theme with fluid grid layout from FrogsThemes. The theme is designed for portfolio websites but its flexibility allows it to be used for much more. Features include a fluid grid based layout with infinite scroll, custom page / post templates, custom options panel, easy video embedding, automatic image and video resizing and much more.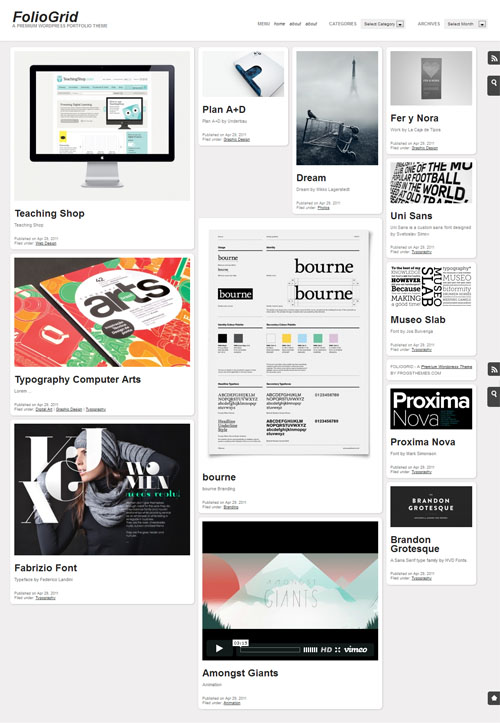 Price: $49
Demo & Release Page | Download
Super Grid WordPress Theme
Super Grid is a minimal grid WordPress theme with a fully responsive and adaptive layout. The premium theme from RichWP has a clean, minimalist design that places the focus on your content. The SuperGrid theme would work perfectly for websites about design, art, lifestyle and other related magazines or blogs. Some of features include infinite scrolling, in-grid advertising options, support for all native WordPress post formats, custom page templates, easy logo integration, various widget areas, options to change lead colour and text colours and more.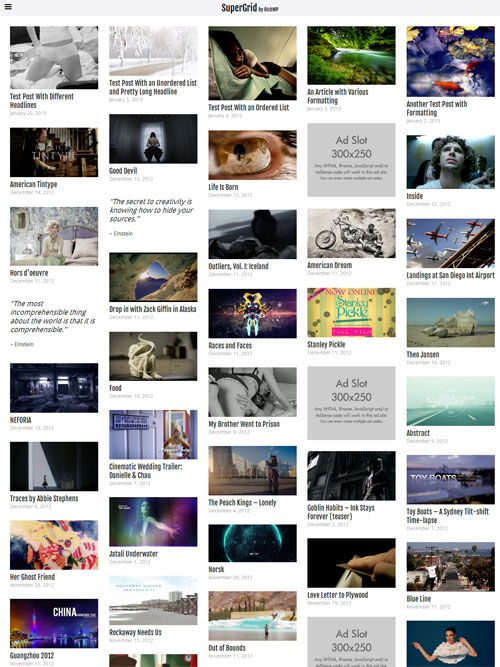 Price: $69.95
Demo & Release Page | Download
Video Grid
A video and multimedia WordPress theme from Theme Fuse with a responsive grid layout. Designed to showcase all types of media files, the premium theme has a slick and modern design. Features include a creative sort filter with animations for filtering and sorting items, light and dark colour schemes, various page layouts, shortcodes and more.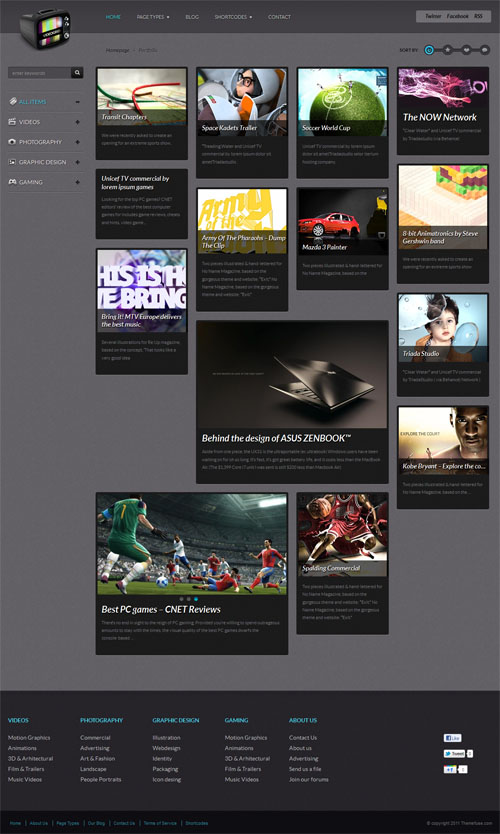 Price: $49
Demo & Release Page | Download
iPin Pro – Pinterest Clone WordPress Theme
iPin Pro is a Pinterest clone WordPress theme that gives you the same look and feel as well as the social functionality of Pinterest. With iPin Pro you can create your own Pinterest style social network. Unlike most other Pinterest WordPress themes this theme includes social functionality for a real Pinterest clone website. Users can log in via Facebook or Twitter, create boards and upload their pins from the web or from their computer. Users can also like and repin other pins, follow boards and other users, and there is a "Pin It" button for easy pinning up pictures, or videos. Each user has a settings page, user profile and options for email notification for likes, repins, follows comments etc. In terms of the design the iPin Pro theme has a fully mobile responsive design with Masonry + Infinite Scroll effects just like Pinterest. It's built on the Twitter Bootstrap framework with Font Awesome. It has a custom login and registration page. You can display popular posts based on likes, repins or comments and is also ad ready with options to display ads in various locations throughout the website. Its built with Bootstrap, includes Font Awesome and has a modern, flat design with 2 color scheme options – light or dark.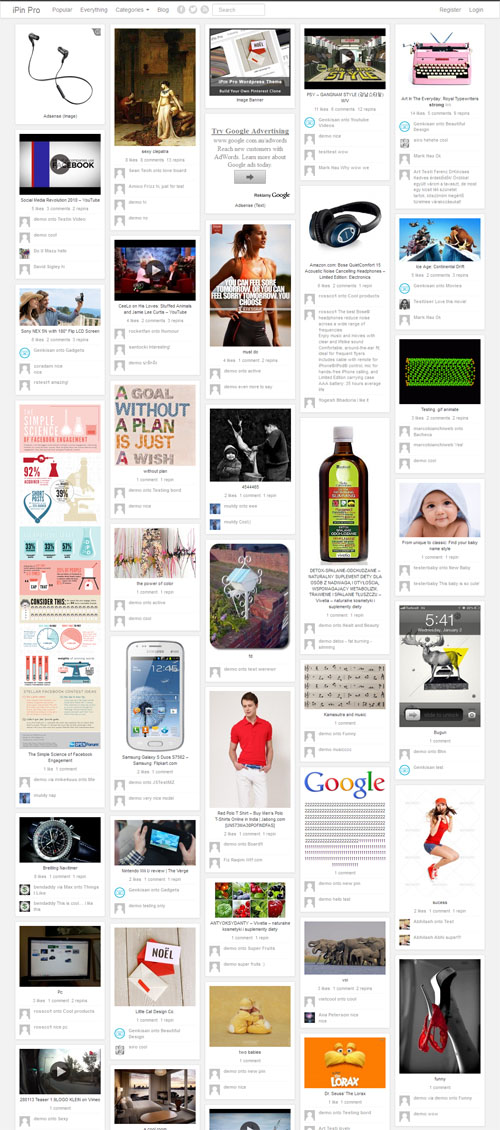 Price: $99
Demo & Release Page | Download
Pinshop WordPress Theme
Pinshop is a Pinterest inspired responsive ecommerce WordPress theme from Themify. The fantastic looking premium theme combines the best elements of Pinterest and a traditional ecommerce website to provide a unique shopping website with a great user experience. The products load infinitely as you scroll down the page and buyers can view all products without having to navigate through multiple pages. The theme has a responsive design so all your products are displayed nicely in stacking order, and when the page is resized or viewed on a iPad, iPhone or other mobile device will automatically adjust and reposition the products for a great viewing and buying experience. Pinshop uses the popular and powerful WooCommerce plugin for ecommerce functionality. It has a fixed top bar and shopping cart for easy navigation, and the ajax shopping cart allows items to be added directly to the shopping cart without having to go to individual product pages. Briefly some of the other features include: customisable shop pages, featured slider, various list and grid view layout options, 10 colour skins, theme options and more.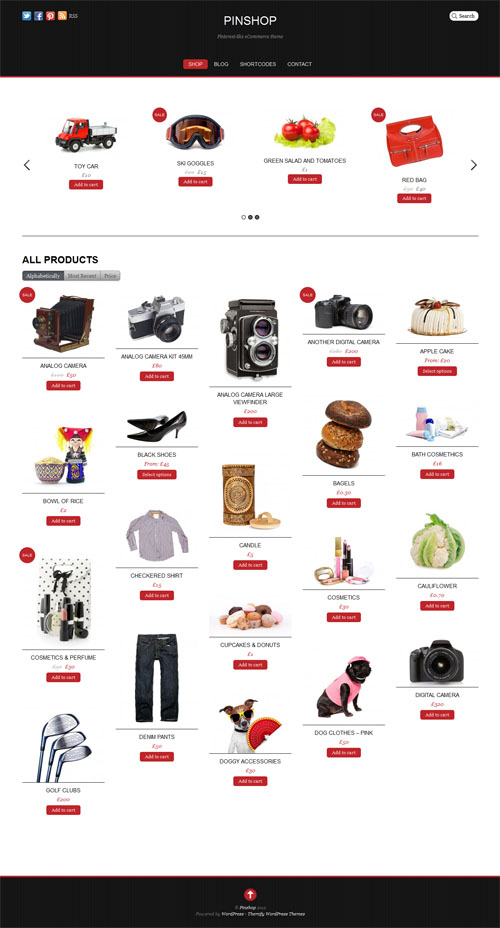 Price: $39
Demo & Release Page | Download
Modern Grid WordPress Theme
Modern Grid is a responsive  WordPress theme with a Pinterest like grid design built for blogging. The premium theme from RichWP could be used for any type of website but would be perfect for sites about interior design, travel, glamour and fashion, lifestyle, entertainment news or similar topics.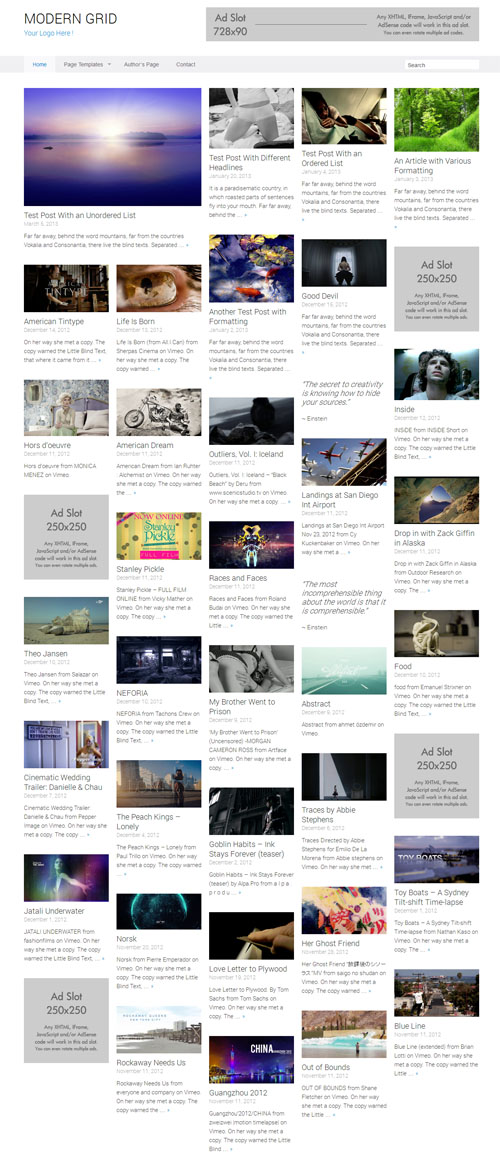 Price: $69.95
Demo & Release Page | Download
Pinable WordPress Theme
Pinable is a Pinterest style WordPress theme from Theme Junkie with a design heavily inspired by Pinterest and Behance. The versatile theme could be used for a creative / design website, personal blog, portfolio, video blog, gallery, or an online magazine. The size (width) of the post boxes can be easily adjusted in the backend options panel. Pinable supports various post formats (audio, video, gallery, quote, link, etc). Some of the other features include: a responsive design, built-in post view counter and like it counter, support for any type of video, post gallery, shortcodes, custom page templates, theme options panel and more.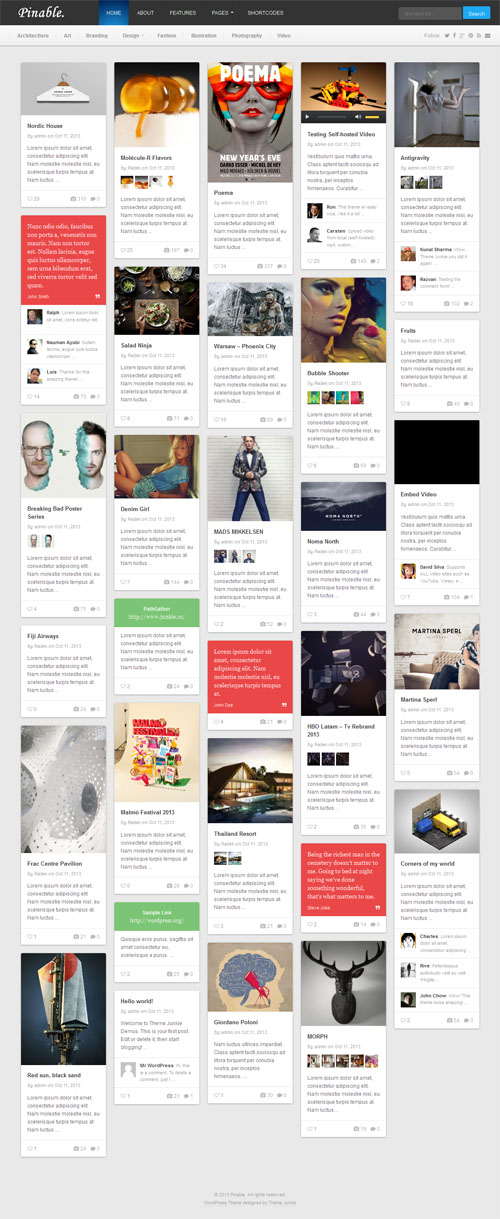 Price: $49
Demo & Release Page | Download
Pinclone WordPress Theme
Pinclone is a Pinterest clone theme for WordPress. The commercial theme offers a complete set of Pinterest functions and an eye catching mobile responsive design. The theme is built with the popular Bootstrap framework and allows you to create a website that works just like Pinterest. Users are able to sign up and share their pictures, ideas, brands, website link etc. via pinning onto an interactive board, post comments, interact with others, edit their pins, receive notifications when people like, share or re-pin, and more.
Some of the other notable features of the theme include: a masonry grid design with auto loading (infinite scroll), video and audio support, admin control panel, custom logo, adverting banner options, mobile friendly with a responsive design, customization options, and more.


Price: from $39
Demo & Release Page | Download