8Bit have released version 3 of their fantastic Standard Theme. Standard is a premium WordPress theme for professional blogging and publishing. The theme is fast, light, effective and is built to the latest industry standards and best practise. The core code has been audited by Automattic, the company behind WordPress.com. SEO aspects of the theme have also been audited by leading SEO professionals, to ensure the greatest amount of SEO possible in the markup without using any additional plugins.
The theme is built on Twitters Bootstrap for the underlying UI framework, meaning it's a fully responsive WordPress theme and will automatically adapt your content to look uncluttered and elegant on desktops, tablets, and mobile phones. One unique feature in the theme is the SEO Box which allows you to see and edit a live preview of what Google will show when you post or page is returned in search results. Some of the other cool features in Standard 3 include: an options page for layout and style customisation, built in maintenance mode, activity tabs, various custom widgets, social icons manager and more.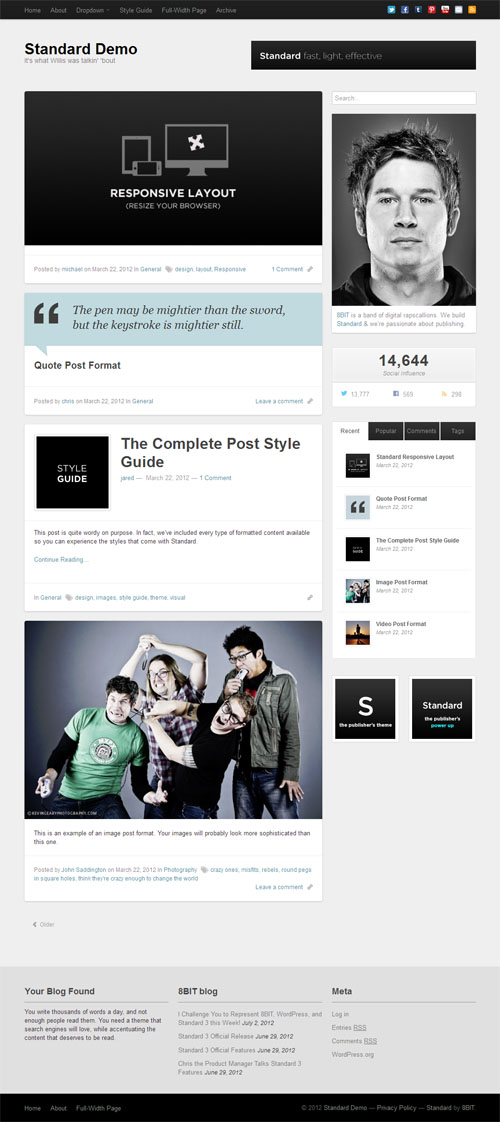 Responsive Design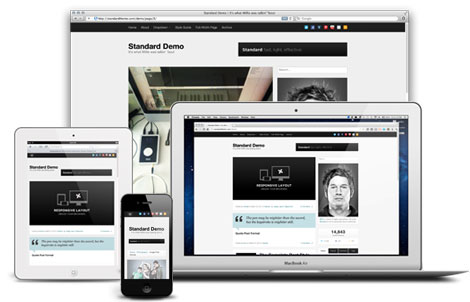 Features
Core code audited by Automattic and honors WordPress coding conventions
Optimized for Search Engines – the theme has been audited by leading SEO experts in the industry
Standard SEO Box – allows publishers see and edit a live preview of what Google will show when you post or page is returned in search results
Full WordPress API Integration – Standard leverages the WordPress API to the fullest extent resulting in greater security, faster performance, and an overall tighter integration with WordPress
WordPress 3.4+ Ready
Supports WordPress' new flexible custom header as well as the Theme Customizer
Child Theme Ready
Built on Twitter Bootstrap
Built-in maintenance mode
Responsive Design – it will adapt your content to look uncluttered and elegant on desktops, tablets, and mobile phones
Publisher Oriented Widgets – display your social influence, integrate with Google search, personalize each article with a short author biography etc
Customisable Layout and Style – Upload your own logo, move the sidebar to the right or left side of the page (or remove it completely), relocate the navigation above or below the header, designate the background's colour or image etc.
Social Icon Manager – includes hand crafted social icons but also allows you to upload your own icons, set URL's, sort / reorder, and delete
Advertisements – managed by widgets
6 Widgetzied Areas – header, sidebar, between the post content and comments, and three footer widget columns
Activity Tabs – allows you to display your most recent posts, most commented posts, most recent comments, and most used tags
Social Influence Widget
Privacy Policy and Comment Policy Templates
Author Box
Personal Branding and Profile Management Features for both individual writers and multi-author teams
Price
Standard License: $49
Support License: $99
Demo & Release Page | Download
This theme is no longer available. Check out our list of the best WordPress themes for bloggers for other themes.