PageLines have released an update to its drag and drop WordPress Theme Framework with some notable improvements and new features. PageLines new features included in Version 2.2 include full integration of Twitter's Bootstrap, live LESS CSS processing, dashboard optimization, improvements to the PageLines Store, live chat support from the WordPress admin panel through a new subscription service PageLines Plus, and several new Drag & Drop sections.
The PageLines Framework
PageLines Framework is a responsive, drag and drop framework for WordPress with Bootstrap, CSS3, and HTML5. The cutting edge theme framework is designed for both new and pro users, and allows you to easily build virtually any type of website you can imagine. It integrates all of today's popular web standards, stacks of features and gives your website relevance & room for growth.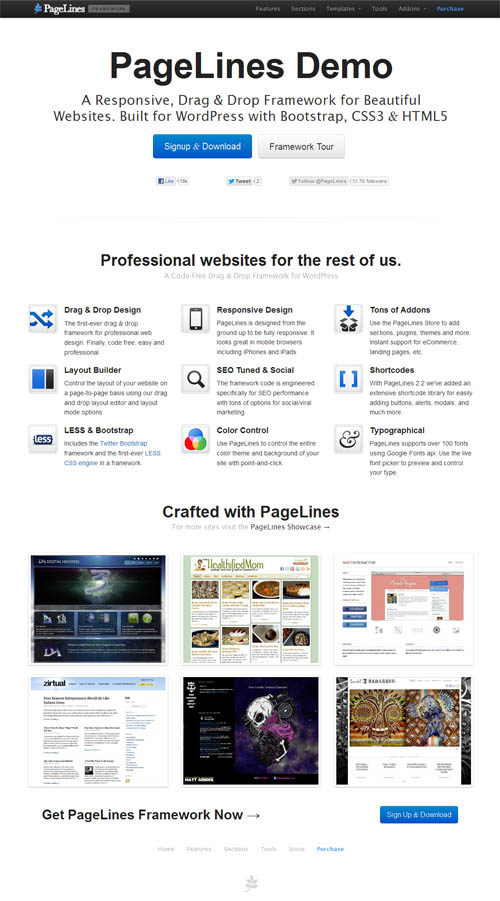 Bootstrap and LESS
PageLines 2.2 now seamlessly integrates the very popular Twitter Bootstrap. The responsive grid, base CSS, navigation & typography components, and Javascript Plugins are all available, giving you more control and consistency, and allowing you to focus on what matters, beautiful web content.
PageLines also now incorporates live LESS CSS processing. LESS extends CSS with things like variables, mixins, operations and functions. It also means faster, cleaner CSS and higher performance websites. PageLines claims that the "PageLines Framework with Twitter Bootstrap and live LESS CSS processing is also the industry's fastest loading Framework, scoring above 85 on Google's PageSpeed Insights consistently, even in shared hosting environments."
Shortcodes and New Sections
Framework 2.2 includes an entire shortcode library to play with. Included are shortcodes for most of the components in Bootstrap, along with shortcodes for buttons and blockquotes, Twitter, Google+, Pinterest, LinkedIn and more.
Also included are several new sections or "inspirations in a box" (a drag and droppable one) to help you attract visitors and keep them on your site longer.
Page by Page, Post by Post Control
PageLines lets you set global defaults for your content pages, then customize them to meet specific needs on a page by page and post by post basis.
PageLine Plus Memberships
With the release of PageLines 2.2, they are have also introduced PageLines Plus Membership, which offers an extra layer of support, including priority live chat within your WordPress administration panel. It also offers access to all the plugins, sections and themes (and their updates) developed exclusively by PageLines. For Plus subscribers, these extensions are available for free. PageLines Plus subscribers will also enjoy the benefits of having no upgrade fee should a new version of Framework be released.
Example Blog Layout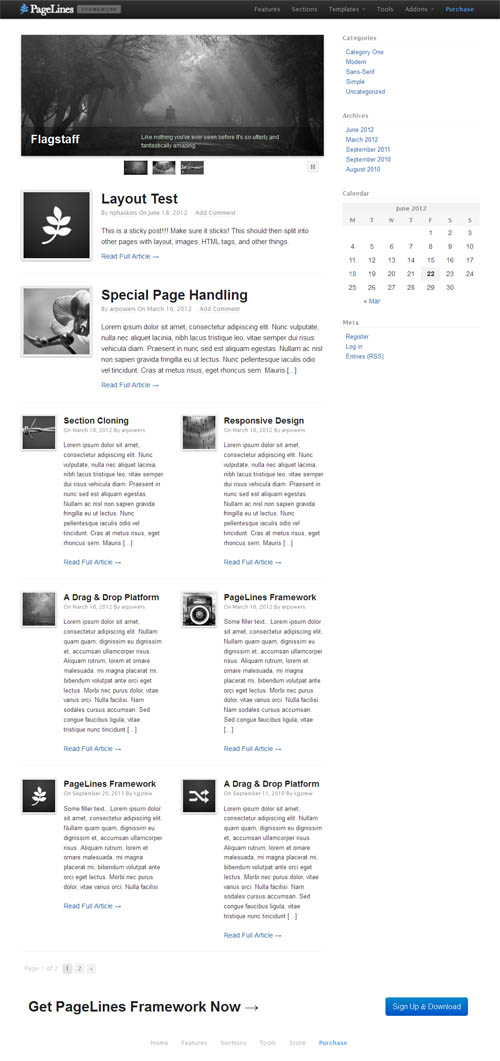 Layout Control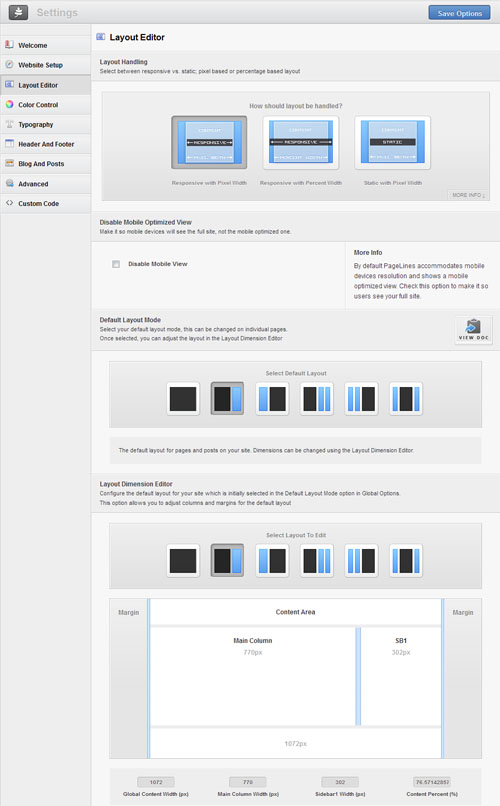 Colour Controls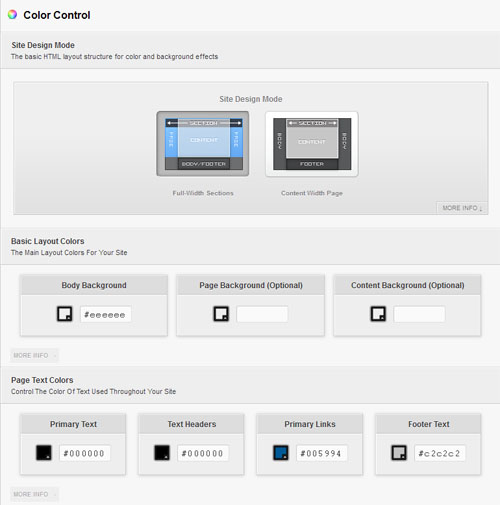 Meta Settings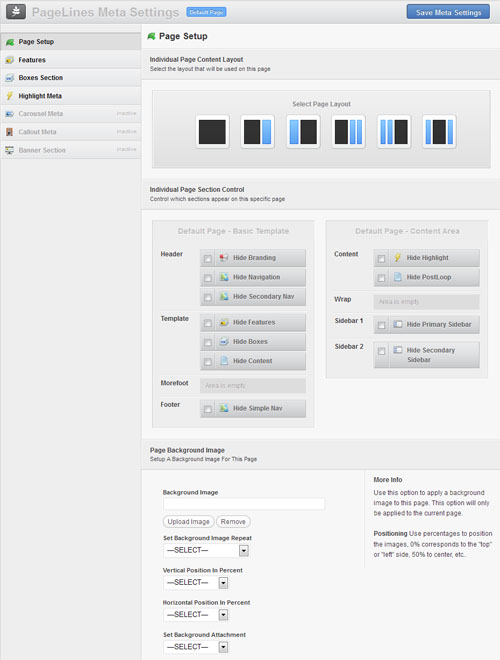 All the Features
Drag and Drop Design – code free, easy and professional
Layout Builder – control the layout of your website on a page-to-page basis using a drag and drop layout editor and layout mode options
Responsive Design – designed from the ground up to be fully responsive. It looks great in mobile browsers including iPhones and iPads
Page by Page Control – On every page and post in your site you can control everything! Add and control page-layout, text, colours and choose from multiple drag & drop sections
LESS and Bootstrap – includes the Twitter Bootstrap framework and the first-ever LESS CSS engine in a framework
SEO Tuned and Social – the framework code is engineered specifically for SEO performance with tons of options for social/viral marketing
Colour Control – control the entire colour theme and background of your site with point-and-click
Tons of Addons – Use the PageLines Store to add sections, plugins, themes and more. Instant support for eCommerce, landing pages, etc
Shortcodes – extensive shortcode library for easily adding buttons, carousels, alerts, modals, and much more
Typographical – supports over 100 fonts using Google Fonts api. Use the live font picker to preview and control your type
Special Page Handling – tons of control over every type of page. Easily control pages like categories, and archives etc
Social Media – you can Facebook it, Tweet it, and Google Plus it
Themeing Center – design and deploy child themes, with a powerful LESS CSS engine, and extensive docs
Hooks – PageLines Framework has, quite literally, hundreds of hooks, filters, and actions to tweak out on
Support – all the help you need is provided
Developer Community – A friendly community, and unlimited access to the fundamentals you'll need
Pricing
PageLines Framework is on sale through July 9th 2012. It comes in two different sizes:
Professional Edition: $97
Developer Edition: $197
PageLines Plus membership is optional and costs $14 or $19 a month with no contract
For more details about all the features and to try the live theme demo visit PageLines. It really is an amazing, high quality WordPress theme framework.