Dynamik is a powerful WordPress website builder for the Genesis Framework. Dynamik is in fact a child theme for the excellent Genesis Framework by StudioPress, however it is so much more than just a child theme. It's an amazing WordPress website builder and design tool with more than 800 no coding design options thats gives you full control of your website design (layout, appearance, colours, fonts etc) to create any type of website you like.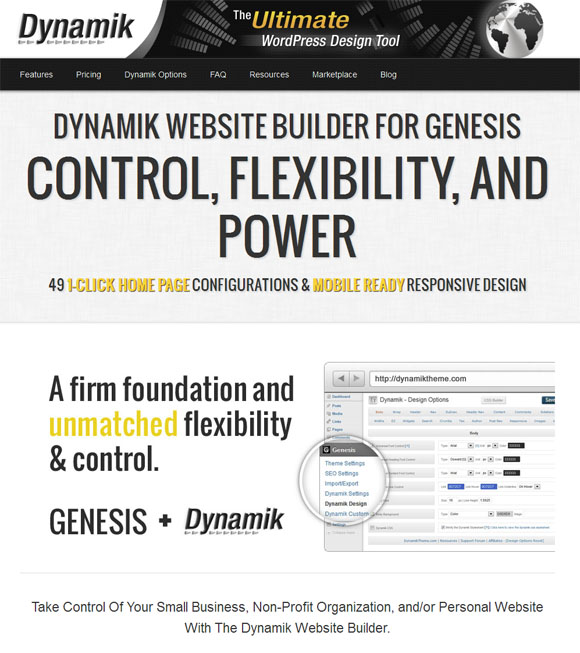 The Dynamik Website Builder is ideal for beginners and the average user because it provides a well organized, intuitive set of design and functionality controls that puts the power in your hands to create and customise your website without needing coding knowledge or hiring a designer. Dynamik has over 800 no coding design options for total control over your entire website.
Creating a unique homepage layout with the exact design you want is always a challenge if you don't have the coding skills to make it yourself. Dynamik gives you complete homepage control with 49 one click page home configurations as well as unlimited options to create any layout you want.
Dynamik has remarkable flexibility for creating your own layouts with unlimited custom widget areas and content areas. You're no longer subject to the limits of a default sidebar or two. The website builder gives you a black canvas to create as many new layouts and structural additions as you desire and place them where ever you wish.
One of the great things with Dynamik is the Custom CSS Building Tool which makes it really easy to add your own custom CSS code, controlling how every element appears on your site. The front end CSS Builder lets you pick and choose what customizations you want to apply and then writes the code for you! You don't need to know anything about coding.
Example of One Section in the Dynamik Design Options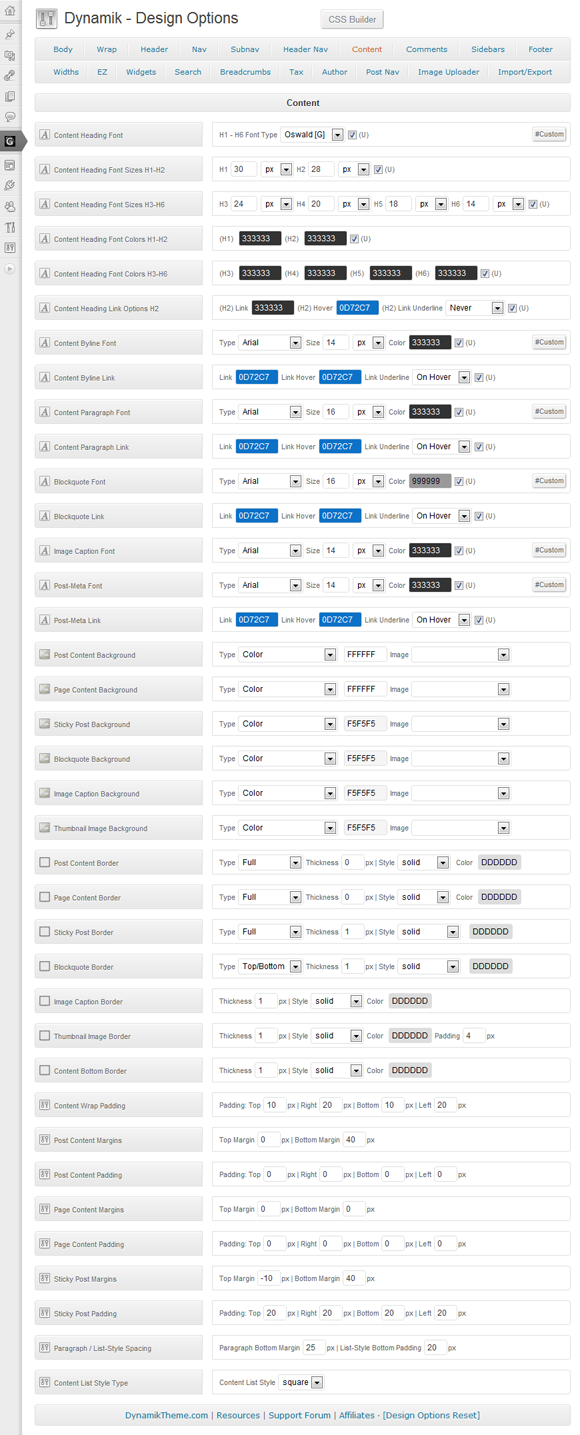 Dynamik Layout Options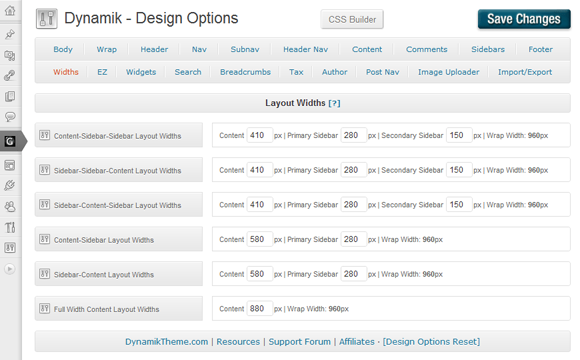 Mobile is important these days, and extensive responsive design features are built right into the Dynamik Website Builder so your website will have a 'responsive design'. This means your website will automatically respond to the dimensions of the screen size and device used to view it, so it works beautifully on everything from desktops to tablets to mobiles. A single click Responsive Activation feature along with intuitive controls allows you to easily fine-tune the way your site responds for mobile visitors.
It has a plethora of features and functions, so briefly some of the other features include: comprehensive font and styling options, automatic updates, extensive backend options with robust feature set and design controls for every website element, lightweight and efficient front end, favicon and background uploader, MU support, and much more.
While the Dynamik Website Builder gives you full control to create your own website, the Dynamik Markeplace also offers a growing number of pre made premium and free skins you can use as your website starting or ending point. See them all here.
Key Features
Complete Control – more than 800 no coding design options
Homepage Control – 49 one click home page configurations included
Responsive Design – Extensive responsive design features are built right into the Dynamik Website Builder so your website look great on ALL devices from tablets to mobile phones (responsiveness is optional)
Unlimited Widget Areas and Content Areas – allows you to create any layout structure you like
CSS Builder – lets you pick and choose what customizations you want to apply and then WRITES THE CODE FOR YOU. Ideal for those of you who want total control but aren't a 'coder'
Front End CSS Builder – lets you see your custom styles take effect in real time
Custom Fonts and Styling Control – includes 165 websafe fonts, integration with Google Font Directory API, TypeKit support and point and click options to control how text appears on your site
Fast, Efficient Code – Dynamik's code has been professionally written, refined and maintained to provide a quality foundation for your next web design project. While the back end of Dynamik contains a robust feature set and design controls for every website element, you can rest assured that the front end of your site will be lightweight & efficient
Automatic Updates – notifications and update from the WordPress dashboard with a couple of clicks to always run the latest version
No Limits – Use Dynamik on an unlimited number of sites, domains, Client Sites, whatever!
Custom Child Themes – allows you to create your own custom child themes with a single mouse click
Background Image Uploader
Import / Export Dynamik Options
Easily Add Custom Favicon
Fully Compatible with WordPress MU
Comprehensive Documentation
Free and Premium Skins Available in the Dynamik Marketplace
Lifetime Support
More
Dynamik requires the Genesis Theme Framework from StudioPress, which is not included with Dynamic Website Builder and needs to be purchased separately. You can read more about the Genesis Framework and purchase it here.
Price
Dynamic Website Builder: $77
Genesis Framework: $59.95