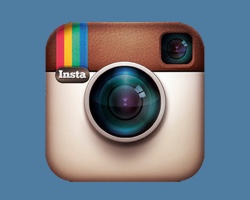 You know what they say: A picture is worth a thousand words.
However, in today's fast-paced, digital world – a world in which human beings have shorter attention spans than goldfish – the argument could be made that a picture is worth at least 10 times that.
If you're one of the 200 million active users on Instagram – or your company maintains a profile there – it's probably time to start thinking about how you can get more eyeballs on the beautiful pictures you take.
After all, with an endless amount of vendors competing for the attention of a finite number of potential viewers, a well-shot photo is likely to draw more praise than even the best-written blog post, since a picture takes a considerably shorter amount of time to consume and share.
Since that's the case, it follows that a successful Instagram feed might very well be the ticket you need to round out your social media campaigns. Believe it or not, Instagram photos perform even better than photos posted directly to Facebook.
You have tons of options at your disposal when it comes to displaying your Instagram feed on your blog. Consider these eight WordPress plugins – many of which are free – to take your brand's page to the next level:

This free plugin gives you the ability to showcase your photos wherever you want: on a sidebar, as an entire page or embedded in a post.
Downloaded by more than 159,000 people, Alpine Photo Tile offers users a slew of highly customizable shortcodes and widgets, so rest assured you'll be able to take your page to the next level with this plugin. Easy to use and simple to set up, Alpine Photo Tile may very well be the plugin you're looking for.

If you're looking to showcase your design chops, you might want to check out Enjoy Instagram. This free plugin allows users to display their photos in either grid or carousel form – both of which are very pleasing to the eye.
With Enjoy Instagram – a plugin that more than 15,000 people have added to their blog – you can display photos by users or appearing under a particular hashtag. Fans of lightboxes will be happy to learn that every photo can be displayed in this mode if you so choose.

You can give Instagram feed a whirl for free. After you start messing around with this plugin, be careful: There's a good chance you'll be tempted to shell out $39 for a premium edition that boasts a slew of additional features.
With Instagram Feed, you can show off public Instagram photos in singular feeds or feeds that mix photos from multiple users. This completely customizable plugin allows you to determine precisely how your photos will appear on your blog. You can determine the height, width, number of photos, number of columns, image size, background color and more.
With nearly 65,000 fans, this bad boy's certainly worth giving the time of day.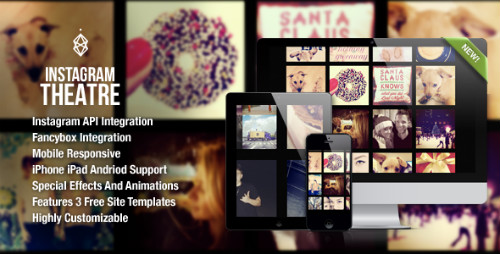 If you're interested in creating an engaging Instagram photo gallery and really giving your website a facelift, Instagram Theatre might be the tool you're looking for. Keep in mind that it's a premium plugin, and as such, it carries a $14 price tag.
Instagram Theatre offers a wealth of features, including full screen, thumbnail and list layout modes, mobile responsiveness and complete customization. An intuitive plugin, your customers are certain to enjoy a more refined user experience when you make your website over with Instagram Theatre.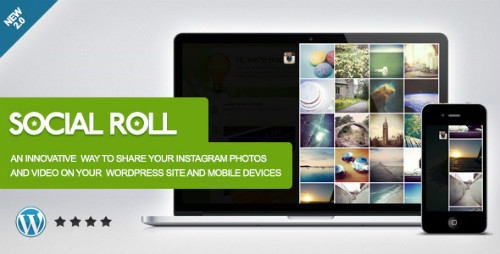 For $14, you can make use of a plugin designed specifically for WordPress that allows you to show off your latest photos and videos in a creative way that is quite different from other Instagram gallery plugins.
At its very core, the plugin allows users to display a long grid of photos on the side of their website. These photos will appear automatically, so you don't have to worry about spending more time than you'd like ensuring your website is updated to include your latest pictures.

More than 14,000 people have downloaded DsgnWrks Instagram Importer, a free plugin that helps designers make their sites a whole lot sexier. The plugin provides you with tons of options when it comes to controlling the appearance of your website.
With DsgnWrks Instagram Importer, you are given full control over the management of the photos on your website. What's more, you can configure the plugin to feature photos automatically. This way, when you're on the road or at a tradeshow, for example, your fans will be kept in the loop. All it takes is a few seconds to set up.

Similar to a Facebook fan widget, this free plugin allows businesses to display up to 50 of their Instagram followers right on their website. This plugin is completely responsive, and it takes mobile devices into account to ensure an optimal user experience.
Billing itself as a hassle-free plugin, Instagram Followers Shortcode enables you to connect with your fans' social inclinations, encouraging them to take a look at what other people are interested in. In other words, they'll be curious about all the fuss with your brand or blog, and they'll take a peek themselves.

This free plugin automatically pulls images from one or more hashtags – depending on your preferences – and automatically creates a new, unique post for each image on your blog.
Originally envisioned to assist brands with photo contents – like a new post for every photo that has been tagged #ACMEistheBEST – designers are finding all kinds of uses for Instagrab.
For example, every time someone takes a picture that relates to you brand and tags it with a hashtag you're following, that photo will automatically pop up on your site. Your fans will undoubtedly be interested in that kind of content.
Humans are visual creatures. Since that's the case, you should consider whether it would be wise for your brand to focus on enhancing your website with appealing Instagram photography. Luckily, thanks to the above plugins, giving your blog a facelift is easier than you think.
Have you tried any of these plugins, or have any recommendations I missed? Share your favorite Instagram plugins in the comments below!
Adrienne Erin is a freelance designer, writer, and WordPress enthusiast. When she's away from her computer, she loves cooking or pursuing a healthier lifestyle. Follow @adrienneerin on Twitter to get in touch, or visit her blog Design Roast to see more of her work.