Starting a website today is easier than ever and there are lots of good platforms to choose from. WordPress is perhaps the most popular CMS (content management system), but there are other good platforms to consider. One such platform is Wix. In this article I look at how Wix compares to WordPress to help you decide which platform is the best one for you.
Wix – Overview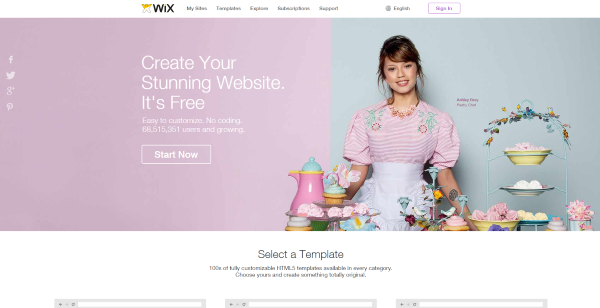 Wix is a cloud-based HTML site-building platform where users can develop websites with online drag and drop tools. You can create a website, blog, single page, online store, portfolio, and more.
Users can integrate plugins and add eCommerce, social media integration, contact forms, email newsletters, forums, and more. Plugins are available from both Wix and third party providers. It includes analytics.
WordPress – Overview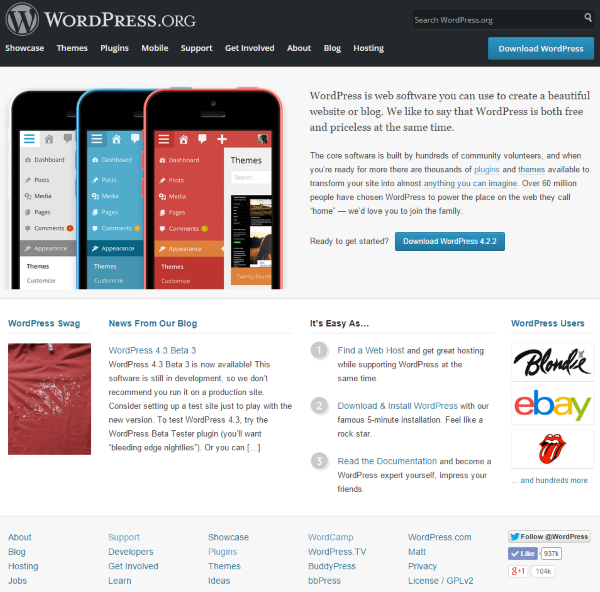 WordPress is software that you or your hosting provider installs on your hosted web space. You can create a website, blog, online store, portfolio, single page, and lots more.
You can integrate eCommerce, social media, contact forms, newsletters, add forums, create a school, and much more. Analytics can be added through many third party options.
Hosting
Wix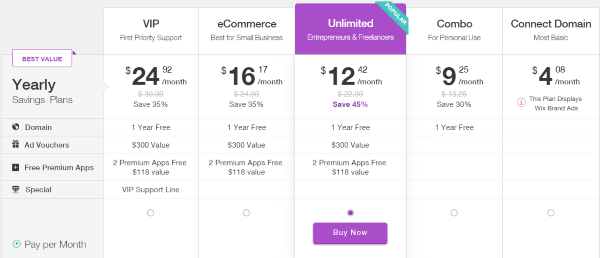 Your Wix site is hosted by Wix on their servers. There are 5 different plans. Prices range from $4.08 to $24.92 per month. The most popular is the Unlimited plan. It's designed with entrepreneurs and freelancers in mind and costs $12.42 per month and includes 10 GB of storage and unlimited bandwidth, the domain name for one year and two premium apps.
Many themes require the eCommerce package which costs $16.17 per month and has 20GB of storage and 10GB of bandwidth. You can use your own domain. They do offer deals, so it is possible to get some of the packages much cheaper.
WordPress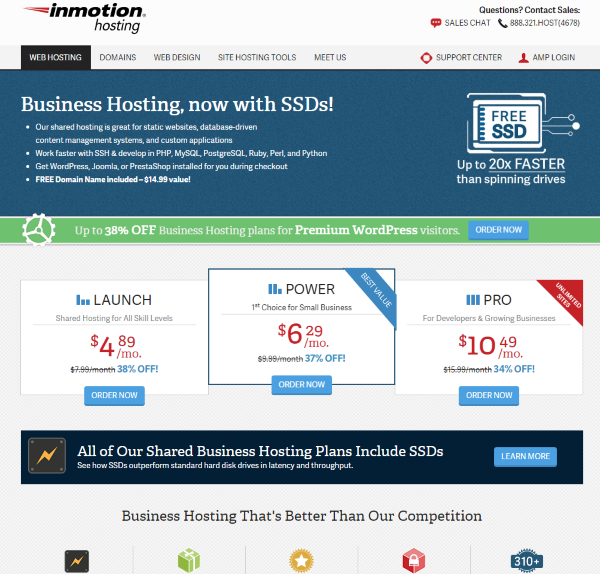 There are many hosting providers for WordPress. They provide the web space for you and they either install WordPress on that space or you can install it yourself or hire someone to do it for you. Prices average as low as $7.00 per month depending on the features you want.
For example, this plan from inmotion hosting ranges from $4.89 to $10.49 per month for Premium WordPress visitors. The Power plan is $6.29 and includes free SSD, 50 databases, unlimited disk space, unlimited bandwidth, space for 6 different websites, free data backups, 24/7 support, and lots more.
Prices and features range widely from one provider to the next. The upside is you have lots of choices, the downside is you have to do enough research to make a good choice. You can expand your website as much as you want, such as adding eCommerce, without any extra costs from your provider.
Blog or Website
Wix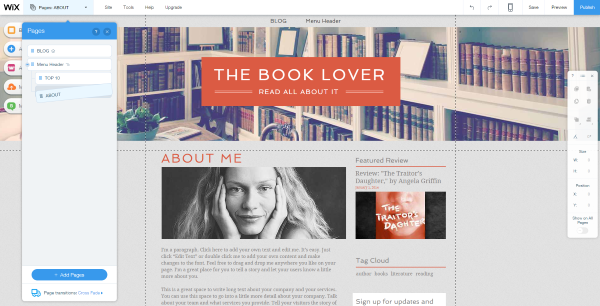 On the surface Wix is primarily a website, but you can create a blog as well. Wix will let you create a website and add a blog to it as a separate page. Your website can have as many pages as you want. Your blog can have tag clouds, lists, featured galleries, and social feeds. You can customize each of the elements of your blog. As you build your site you just simply choose to build a blog and all the features you need are included.
Navigation is handled for you when you create pages. You can also drag and drop pages and links within the navigation structure manually, creating your own custom structure. The menu structure is changed immediately on the page to reflect the changes you make.
WordPress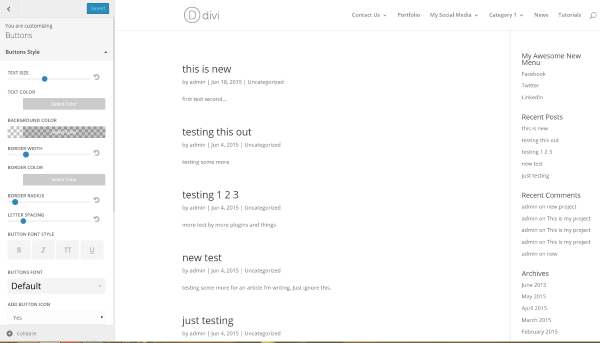 WordPress was built as a blogging platform. You can easily make a regular website just by setting a page as a static front page. You can still have the blog feature or just the website. It creates a menu structure for you or you can create your own from the back end. You have pages, posts, categories, tags, galleries, and custom content types. You can integrate forums and social feeds. You can manage comments with the built-in comments features.
Templates vs Themes
Wix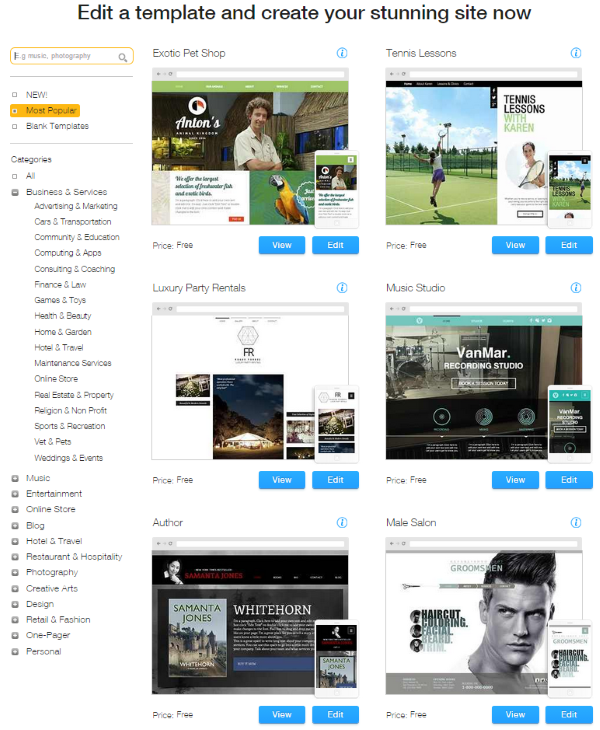 Wix has 100's of HTML5 templates in 13 categories and many subcategories. You should be able to find a theme to create most types of sites. If not, they you can modify the layout using the drag and drop design system from the front end that's built into Wix. Many are free but some require a premium subscription such as the eCommerce package. The templates are responsive using a feature called Optimized Mobile View. Choose your template wisely. The only way to change it is to create a new site and transfer your current site to it.
WordPress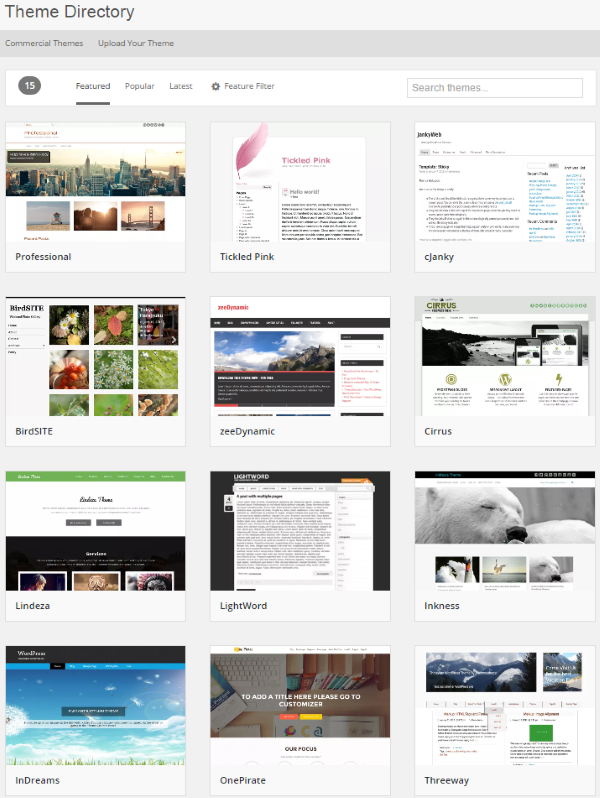 The WordPress themes directory contains thousands of free themes in many categories. You can create anything from a single page, to a portfolio, to an online store, to a website for a large organization. If you need a certain type of website there's probably a WordPress theme available to make it. Using the themes editor from the backend you can edit PHP code, HTML, and CSS. You can also add child themes to expand functionality. You can change your theme as many times as you want.
There are many premium theme providers across the web that provide high quality professional designs that are customizable and secure. Prices range from less than $50 to over $200. Many professional themes are less than $100.
Note – PremiumWP maintains a list of some of the best WordPress themes available in many categories.
Drag and Drop Building
Wix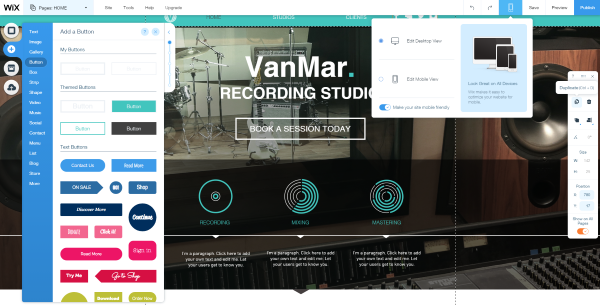 You can edit the templates from the front end using the drag and drop editor. It's completely WYSIWYG. You can easily add and remove elements such as buttons and images. You can upload files, change colors and sizes, add apps from the app market, add or change text, contact forms, Google Maps, rotate, duplicate, arrange, etc., all from the front end. You can also see the site in mobile view so you can make adjustments for mobile devices.
You can edit fonts, images (including 17 functions to edit and retouch), create and organize pages, embed HTML, and even protect pages so that only certain members can open them.
WordPress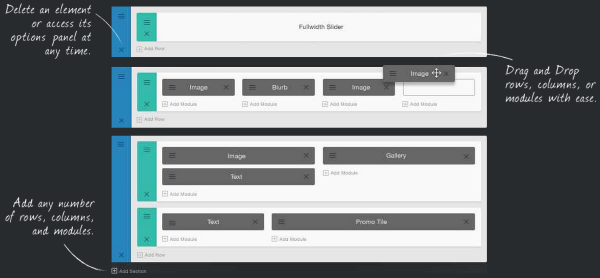 Drag and drop is added to WordPress through plugins and themes. Drag and drop can be used to build complete themes, page layouts within the themes, or layouts within the pages and posts themselves. Depending on the plugin or theme you choose (you can get both free and premium) you can build via drag and drop from the back end or the front end. Drag and drop will eventually be integrated into the WordPress core. The Front-end Editor is currently available for beta testing.
Apps and Plugins
Wix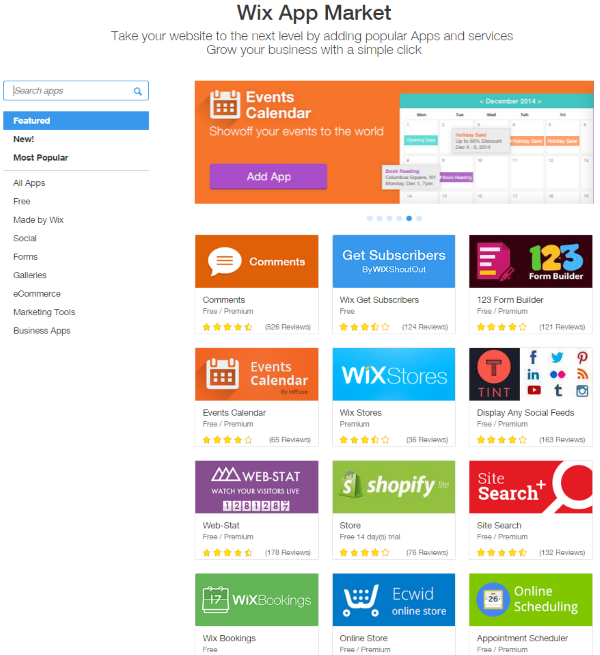 You can expand the functionality of Wix with apps. There are 235 total apps available in the app market in six different categories. There are currently 134 premium and 101 free apps. Apps add functionality such as social media integration, forums, galleries, audio playback, newsletters, eCommerce, SEO, live chat, maps, search, scheduling, planning, pricing tables, sliders, job boards, poll, QR code, etc.
WordPress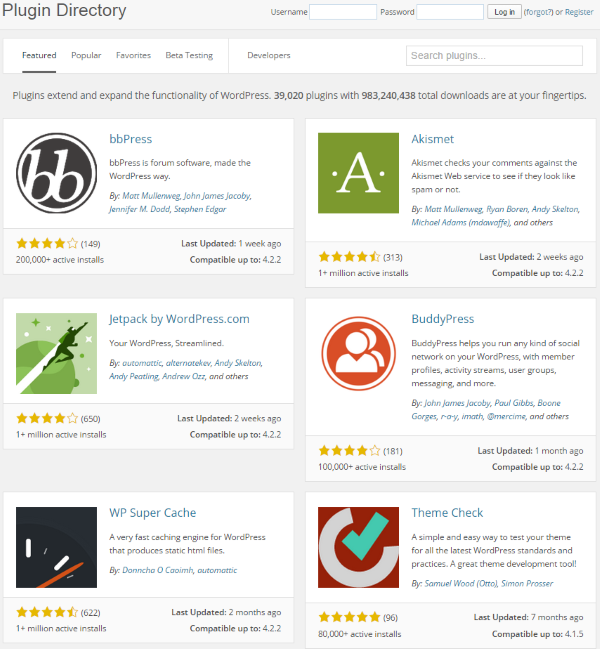 WordPress currently has over 39,000 plugins in the plugin directory. Some of these may not have been updated in a while. They are free and many can be expanded with premium features. Prices for premium range from $5 to $100 with the average being around $20 or less. Plugins can add pretty much any feature you can imagine. They can make your site faster, add a forum, add a course, create an auction site, a membership site, auto-resize images, countdown timers, calendars, Google Maps, social media integration, security, backups, eCommerce, project management, and lots more. You can edit the code of plugins using the plugin editor.
eCommerce
Wix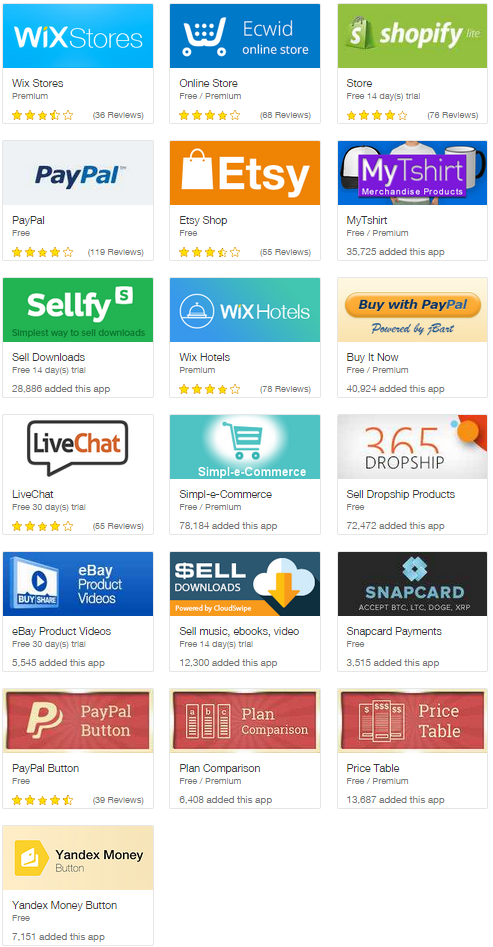 You can create an online store using the eCommerce package. It gives you features such as inventory management, product galleries, a shopping cart, and a checkout button. You can use various payment methods such as PayPal, WebMoney, or Skrill. It even integrates into Facebook so your Facebook page updates in real time with your inventory in Wix.
You can expand your store with 19 eCommerce apps that add pricing tables, shopping carts, a PayPal button, live chat, downloads, payments, drop ship, and more. You can also add supporting features such as analytics, social media, newsletters, and more.
In order to run eCommerce you have to purchase the eCommerce subscription. The plan costs $16.17 per month and includes a shopping cart and two premium apps.
The Wix Store app includes:
Galleries
Unlimited products
Shopping cart
Secure checkout
Store manager (includes inventory, coupon codes, and tax)
Multiple payment methods
Client organization
WordPress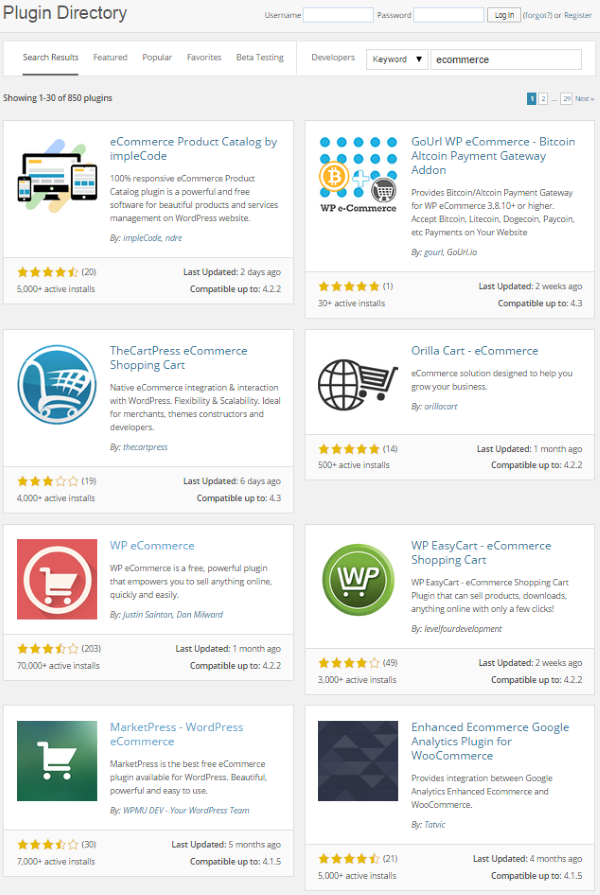 eCommerce can be added to WordPress through plugins. There are lots of choices, but the most popular plugin by far is WooCommerce. It's a free plugin that gives you features such as:
Inventory management
Coupons
Tax
Shipping
Shopping carts
Digital products
Customer management
Order management
Reports
Mobile compatible
Free theme
You can expand it further with 348 premium plugins that add features such as:
Membership
Subscriptions
Deposits
Product add-ons
Table rate shipping
Products compare
Email customizer
Bookings
And lots more
Social Media Integration
Wix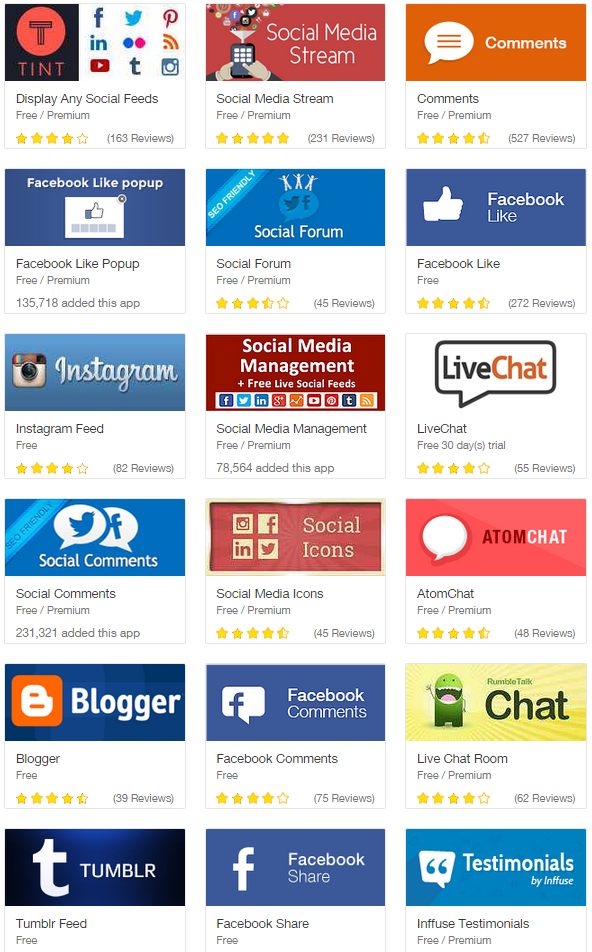 Wix probably has more social media integration options then you'll ever need – at least for the major players. Many of the social media apps are free and it can integrate with most of the popular networks and share feeds. It also has plenty of follow buttons.
Facebook comments appear on your site along with the Facebook profiles of the commenters. You can style the comments section and choose how many comments to show on the page. It has share buttons for Facebook, Twitter, Google +, and Pinterest.
WordPress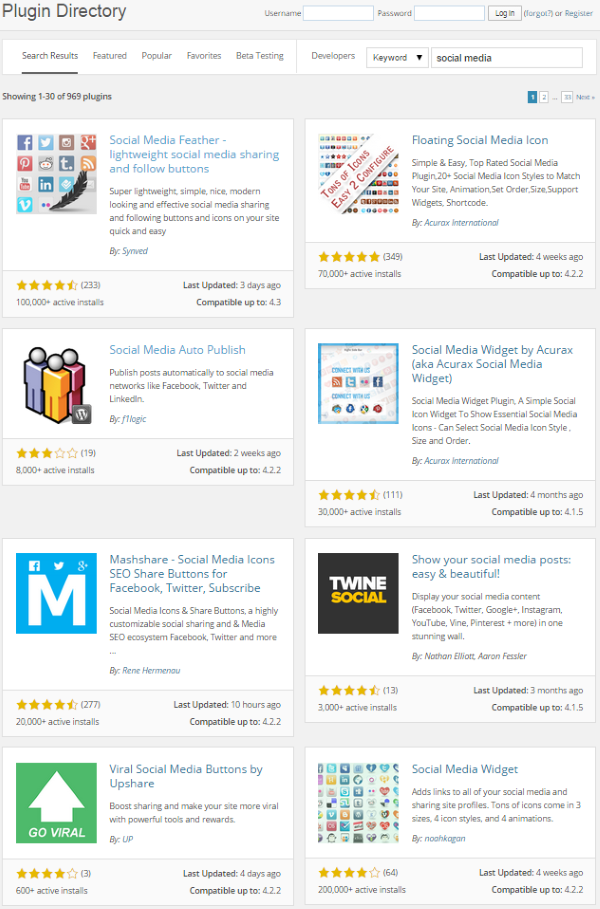 Social media integration can be added with plugins. You can auto-post to your social networks from WordPress and you can post social network updates you're your WordPress posts. You can also include sharing buttons so your visitors can share your content on their networks. Many themes have these sharing buttons as well. Most of these plugins are free. You can add even more functionality, such as analytics and pop-ins, with premium plugins.
Support
Wix
Premium support is included in all of the various packages and is available 24/7. There is a support forum that has over 262,000 topics. They also have hundreds of video tutorials and walkthroughs. If you ever need any help you'll probably find it easily.
Help is also provided on the screen during the editing process. Just select Help and either type in your question or choose from:
Add basic elements
Save, preview, and publish
Make your site mobile-friendly
Connect your own domain name
Get your site found in search engines
WordPress
Support is different in WordPress. WordPress is just the content management system and you get hosting, themes, plugins, etc., from other third party developers and providers. Unless you purchase a support package from a third party you have to get support for each of the elements separately.
For the WordPress CMS itself, WordPress.org provides support through forums and documentation. These are supported by both in-house teams and volunteers. The WordPress installation includes documentation. The help files appear at the top of the screen (accordion style) and changes to match the content. For example, in the dashboard it includes Overview, Navigation, Layout, and Content. In the Posts screen it has Overview, Screen Content, Available Actions, and Bulk Actions.
Publishing Your Content
Wix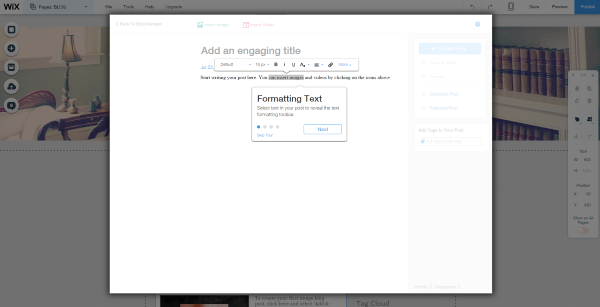 To publish with Wix you have to edit your website, choose to add text, and select to publish a new post. This brings up an editor where you can create your content. You can insert any kind of media you want and you can modify the text with rich text editing features. You can save as draft, preview, schedule, post, set as featured, and add tags. Publishing is simple enough and it's straightforward. I didn't see how to add code. I'm sure there is a way to add HTML to the content it wasn't obvious.
WordPress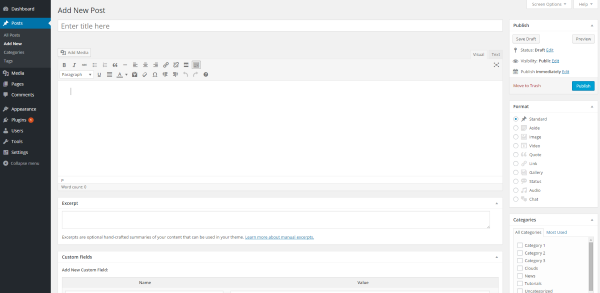 WordPress uses an editor called TinyMCE. It includes rich text formatting and a text editor where you can include HTML. You can save as draft, preview, schedule, publish, publish as private, require a password to view, set an excerpt, adjust for SEO, choose the post type, categories, tags, set a featured image, create custom fields, and more. Publishing with WordPress is simple and intuitive.
Final Thoughts
Wix
Wix is a good platform if you want an all-in-one package and you don't mind not having a choice for hosting, you're okay with their prices, and you don't need a lot of extra or custom functions. It's interesting to use. Getting started doesn't seem as intuitive as I'd like. The sites look and work great.
WordPress
WordPress works great out of the box as a website or blog and you can change its look fast and easy. If you want more than that it requires you to install plugins to create the features you want. There are more themes and plugins available and there is virtually no limit to what your WordPress website can do. WordPress is an open platform. If you need it to do something that's not currently available, you can hire a programmer to create the feature.
Which Should You Choose?
It depends on what you want to do with your site and what you need. If you don't want to do any work under the hood, you want to buy a package, and not worry about anything else, then Wix might be your best choice. If you want to create a basic blog and still be able to expand it later, I recommend WordPress. Overall, WordPress can be expanded further and can create more types of websites.
Your turn! Have you compared WordPress to Wix? Have you used both platforms? Which do you like better and why? Let us know in the comments below.