Jobs Board WordPress Theme
Jobs Hub is an app type WordPress theme that allows you to build an employment and jobs board website with WordPress. The commercial theme from ColorLabs is mobile ready with a responsive design that adapts to work on mobile phones and other mobile devices.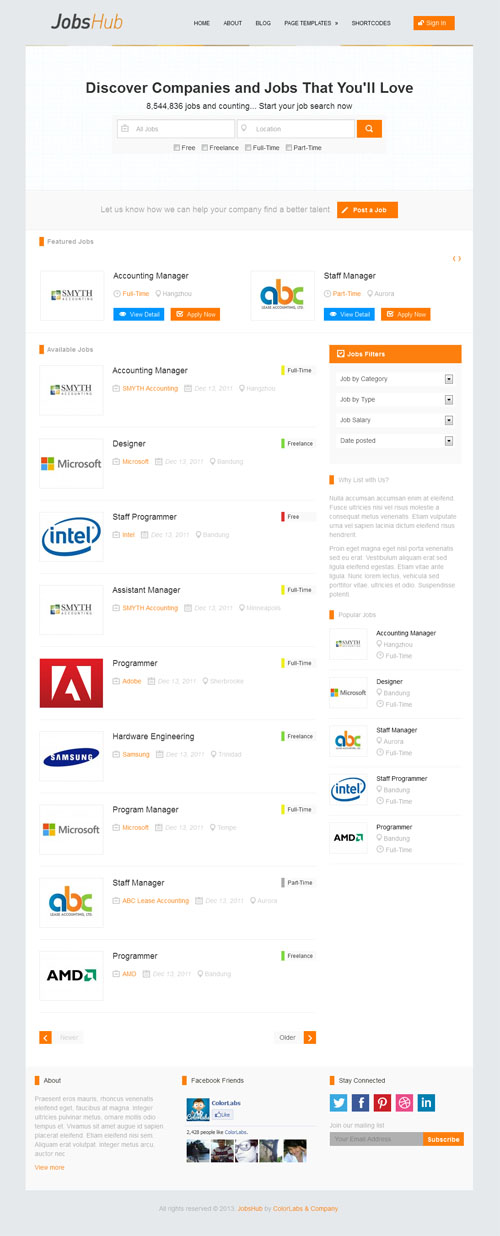 Job seekers can register an account and upload their resume and other important information, while employers can also sign up to post job advertisements and list company profiles, job descriptions, salary details, location (with Google Maps support) and the ways to apply. The theme has custom standalone dashboards for users so they won't even release they are using a WordPress site. Payment options such as PayPal and bank transfer for listing jobs are also in-built so you can generate some revenue from the website.
Key Features
Job Seeker Registration – allows job seekers to sign up to the site to upload a resume and add other important details such as desired salary, position, and location
Employer Registration – lets employers post job vacancies and complete them with company profiles, job descriptions, salary details, location (with Google Maps support) and ways to apply. All job entries will always be logged in the Dashboard.
Custom Standalone User Dashboards – the user dashboards are neatly designed and stand on its own without interfering with the built-in WordPress Dashboard. Both employers and job seekers won't realize that they're actually in a WordPress environment
Notification and Bookmarking – JobsHub keeps record of the job entries you are viewing so you can revisit them later on. You can also star job entries and mark them as favorites. Companies will receive an instant notification via email if someone applies for the vacancy they've posted
Payment Options – allows for payment options such as PayPal and Bank Transfer
Prices
Standard Package: $69
Club Package: $100 (all themes)