WordPress is an amazing website platform for artists. It's free and has everything built in that artists need to display their work, build a following, and keep their fans informed through a blog. By adding a few features using plugins and themes you can even create your own specialized gallery and sell your art from your website. If you prefer, you can simply showcase your artwork and provide links where visitors can buy your work.
Setting up a website for artists is not hard to do with WordPress. This article will show you what you need and discuss the best tools for the job.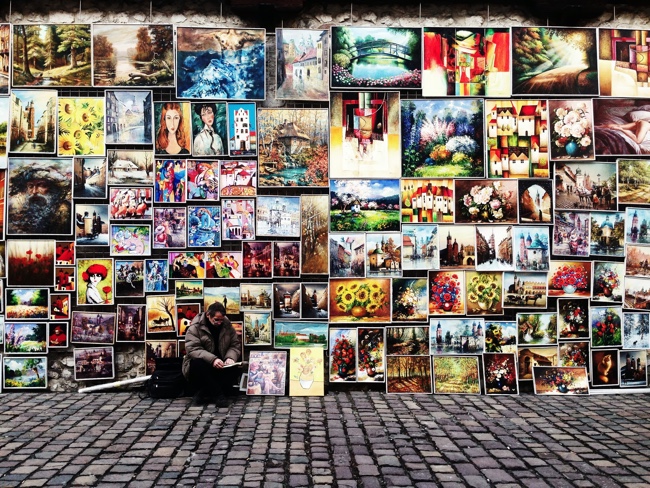 What the Website Needs
An artists' website needs to showcase their work (both currently available and previous), provide a way to sell their work, explain the process of commissioning work, provide a method to commission work, provide directions to see the work in person or pick up the work, provide information about events the artist will be participating in, provide news, social media networks, and contact information. These needs are similar but slightly different than performing artists such as musicians. For information on building a website for musicians see the article How to Set Up a Music / Band Website with WordPress.
To get these features you'll need a good portfolio theme with a clean layout that features your work, an eCommerce solution, a gallery plugin, Google Maps, a newsletter, social media buttons, and a contact form. You can get these features with a single theme, plugin, or a combination of plugins.
Pages You Need
Here's a short look at the pages that most artists use and what most visitors expect to see. You might not need them all but you will need most of them.
About Me – this page will tell your audience about you and your studio. You can tell as much or as little information as you want. It should include photos. This helps build fans. Fans are more likely to follow and buy if they feel like they can know you a little bit. You could even include social media buttons so they can follow you on the various networks.
Portfolio – if you do more than one type of work (for example you paint and sculpt or draw portraits and landscapes) you might consider having subpages to this page. The subpages would be their own topics. Usually the work is shown in galleries using the built-in gallery feature or one of the specialized galleries from themes or plugins.
Commissioning Work – obviously you only need this if you do commissioned work. This page should explain your process (what you need from the client, when the work will be finished, etc.) and provide a contact form or information about how to commission the work. This could also be placed on your contact page.
Contact – this should include all means of contact including phone, email, social media, etc. If you sell from a physical location it should include a Google Map with directions.
Blog – your blog is a great way to keep your fans informed about your work.
Exhibitions – if you plan to attend exhibits to show your work then you'll want to tell your fans. Events can also be placed within a widget in your sidebar. This should include information about the event, locations, dates, and maybe even Google Maps.
Plugins to Showcase and Sell your Work
These plugins can be added to almost any theme and provide you the tools to display and sell your art. They can also let you integrate your accounts from other platforms into your WordPress website.

Projects is a free portfolio showcase management system from the makers of WooThemes and WooCommerce. You can display your projects using a template, on any page or post using a shortcode, in a widget, or by using a template tag. It integrates with WooCommerce so you can sell your project as a product. You can create cover images, galleries, categories, client details, and project URLs. It's easy to set up and use. It's a great way to display and sell your artwork.

This lite version of the pro plugin provides a sharp image gallery for all of your WooCommerce products. It adds a scrolling gallery for every product page. You can include or exclude any images you want. You can choose from three different popup tools including PrettyPhoto, Fancybox, and Lightbox. You can adjust sizes, add captions, styles, etc. It uses a lazy-load feature to load the gallery instantly regardless of how many images are in it. It's a great choice to add some sparkle to your WooCommerce-powered art-store.

Etsy Shop is a free plugin that lets you insert sections of your Esty shop into your pages and posts. The products will be displayed on your site and will be linked to your Esty store. When visitors click on your products they will be taken to your Etsy store where they can purchase your products. This is a great choice if you don't want to handle eCommerce on your own website.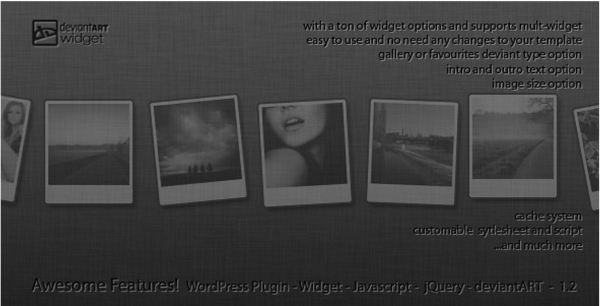 DeviantArt is another popular marketplace to sell artwork. Using this plugin you can integrate your DeviantArt account and show your work. It has multiple image size and quality options. You can use multiple widgets and use custom scripts and styles for each one. This is a good option for those that wish to sell on DeviantArt rather than incorporating eCommerce into their blogs.
It costs $10 for the regular license and $50 for the extended license.

This is the free edition of the premium plugin. The purpose of this plugin is to replace sites like Etsy and DeviantArt and sell directly from your site using PayPal. It creates a slideshow with a store where you can sell any kind of image including pictures, clipart, drawings, and vector images. It includes multiple layouts for the store. It also allows for sharing the image pages on social networks. It includes lots of customization and sorting features. It's simple to set up and use.
More Plugins
Here are a few other plugins to consider.
Best Themes for Artists
Themes need to have clean code that's designed to load fast. Your images will need to be high quality, so the theme will need to load fast. They should be responsive so they look and work great on any device or screen size. Flat designs will give the best modern look and performance. They should also be multilingual. Portfolio themes work well for artists. Any theme made for photography works just as well to show artwork. Here is a list of themes that were made with art and artists in mind. They include most of the features and pages you need to set up your online gallery and start selling your work.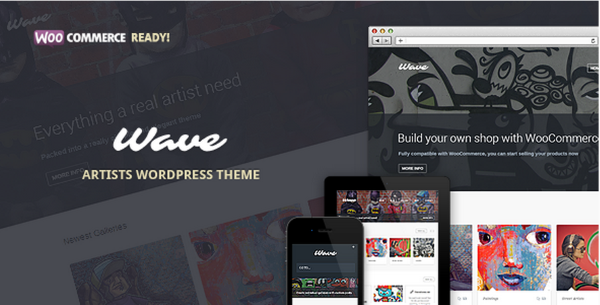 Wave was made specifically for artists to show and sell their work. It has a wide layout with a full-width slider and dynamic homepage. The homepage is modular. You can turn the modules on or off to create the design you want. You can build an 1180px grid with 16 columns. It has custom galleries that let you separate and display your content. It's WooCommerce ready so you can sell directly from your website. It includes custom widgets. It's responsive to look good on small screens and translation ready to break the language barriers between you and your audience. It includes demo content and PSD files. It can also be used as a blog.
The regular license is $59 and the extended license is $2950.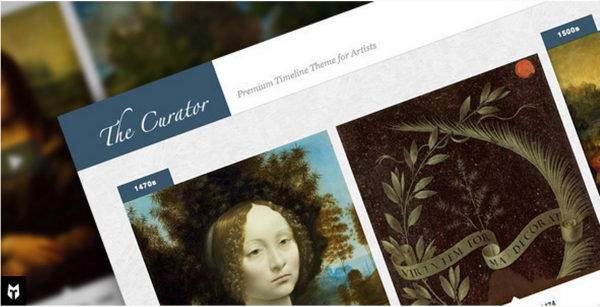 The Curator was built for artists and museums that want to show their work in chronological order. It works just as well for any purpose that needs a timeline. Your galleries are displayed horizontally with a timeline across the bottom of the page. When the reader clicks on the timeline the galleries will scroll to that point in time. Clicking on the images will open a lightbox so readers can get a closer look. It has a parallax background. It has a 3-tiered drop-down menu. It can also be used as a blog which displays multiple tiles and social icons that stay at the bottom of the screen. The header and menus remain in place. You can display unlimited widgets in an info panel. It has an elegant look and feel and is one of the most unique themes for artists.
The regular license is $59.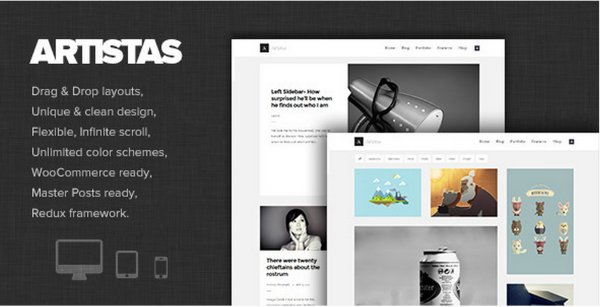 Artistas is a flexible and clean theme with multiple layout options. It includes a drag and drop page builder that uses post blocks to create magazine-style layouts. It includes an extended big menu that displays images with post snippets from a featured category. It includes Portfolio and Slider custom post types. It includes a curtain header that stays in place during scrolling. It supports WooCommerce and has a section for social networks. It's responsive, translation ready, has unlimited colors, unlimited scroll, and uses Google fonts. It's a tabless design that looks great as a portfolio or a blog.
It's $49 for the regular license and $2450 for the extended license.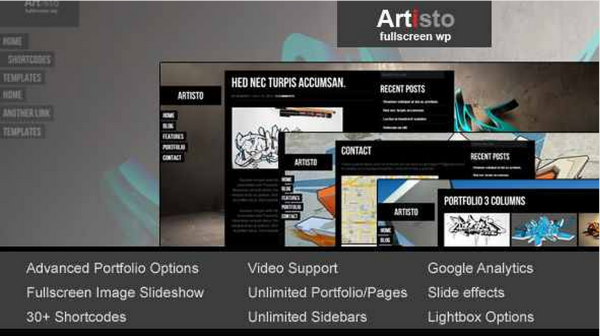 Artisto was created for artists as an advanced portfolio to highlight their work. It has lots of extras to make your portfolio stand out. It includes over 30 shortcodes to create all sorts of buttons, columns, etc. It has a slider with lots of slide effects. It can show a full-screen background as a slideshow with unlimited images. You can have a different background for each page, post, or portfolio item. It has unlimited sidebars. It includes three custom widgets to display recent posts, popular posts, and Flickr. It includes a lightbox gallery. You can customize your own colors and fonts. It includes PDS files, and lots more.
It costs $39 for the standard license.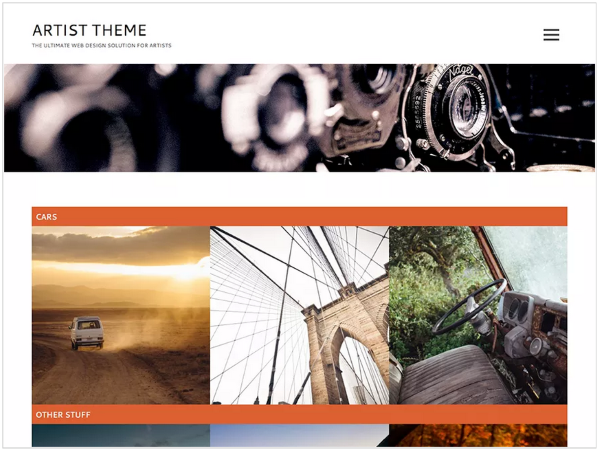 Artist Lite is the free version of the theme designed specifically for artists. It includes a portfolio template that's powered by the JetPack plugin. This keeps your content portable between themes. It has a nice menu structure that stays out of the way but when clicked it shows a full-screen menu. It has a parallax scroll feature. Portfolios look elegant and load fast. Not bad for a free theme.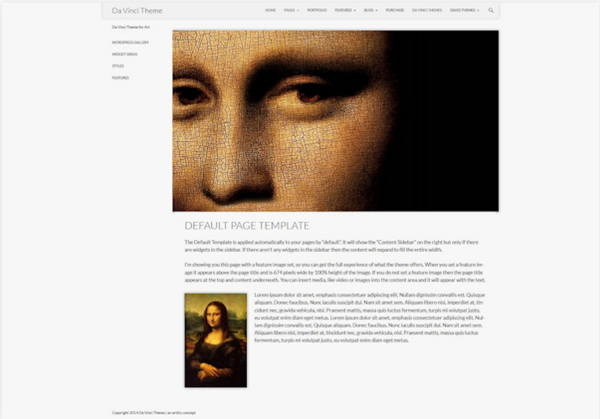 Da Vinci is a responsive magazine theme developed for artists with a modern design. Your homepage can be either a grid layout or a slider. You can use the default or a full-width template. There are three widget areas (primary, content, and footer) to help you customize your site. You can have a full-screen header image. You can customize the fonts. There's also a standard blog feature so you can use it as a blog or as a website with a blog. It supports WooCommerce.
It costs $42.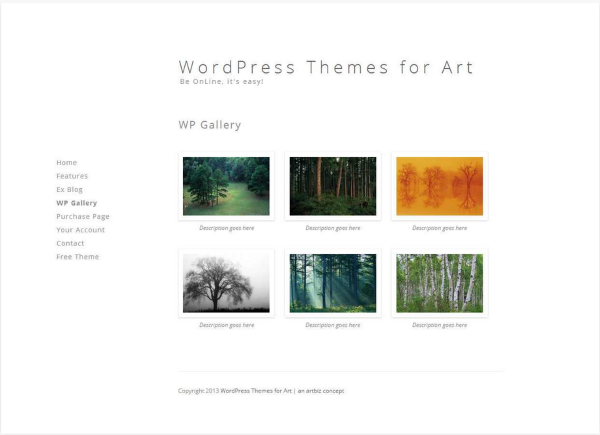 David is an artist theme that acts as a framework for child themes. It also works just fine on its own. It uses the default WordPress gallery to highlight your work. It includes a default page template and a showcase page template. It will automatically resize images to 640px. It contains lots of widget areas to customize your site. You can customize your fonts and use styles. You can have a website, blog, or a website with a blog. The theme looks clean and minimal. It's also responsive.
It costs $35. There are 24 child themes available for $14 each that add new layouts.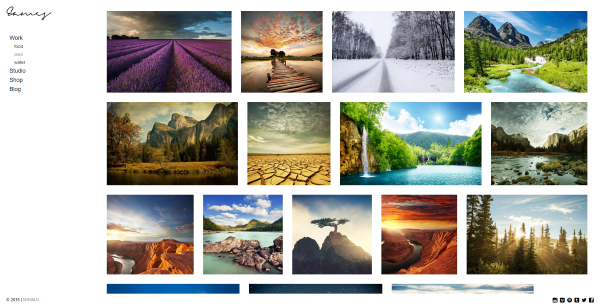 Eames is a minimal theme that was developed for studios or anyone that needs to show their work in a portfolio. You can have unlimited portfolios and images. It has gallery and image descriptions. You can edit the menu size. You can edit the background and font colors. It includes Google Fonts integration. It has shortcodes to create columns. It includes social media icons. It support YouTube and Vimeo videos. It's WooCommerce ready. It includes a blog and it's responsive so it looks great on mobile devices.
Prices start at $99.
More Themes
Of course that's just getting started on themes that work great for artists. Here's a list of a few more.
Artists have the advantage of really just needing a good portfolio theme. There are LOTs more themes discussed on PremiumWP that work great for artists. This collection of premium portfolio WordPress themes alone has enough themes to make any artist happy.
Final Thoughts
WordPress has most of what you need to build an artist website already built in. If you just want to show your work all you need is galleries and pages. Just by adding a few plugins and choosing the right theme you can create your very own online art gallery, build a following, and sell your work directly from your website. It's easy to do and doesn't cost that much.
How about you? Have you built an artist website with WordPress? Did you use one of the solutions here? Did I leave out your favorite or do you have something to add? Let us know in the comments.